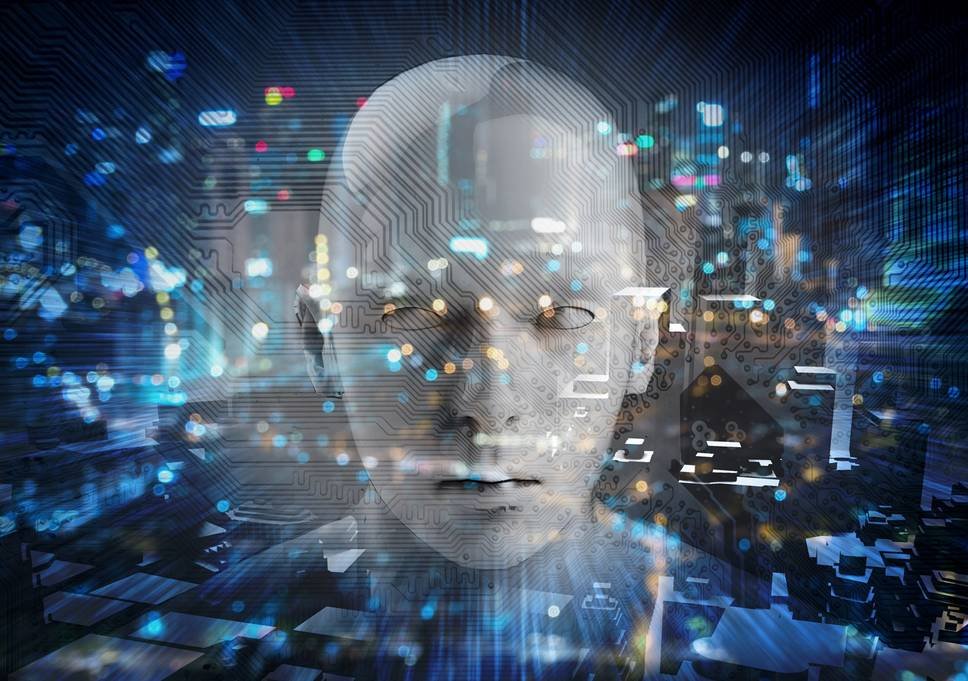 The Stanford Human-Centered AI Institute (HAI) has released the 2021 edition of the Artificial Intelligence Index, which annually summarizes a vast array of research data on AI. This report analyzes from a number of perspectives, including the impact of Corona 19, which was a trend in 2020, on AI development.
The AI Index was edited by the 11-member Steering Committee of Stanford University's HAI, and organized by group participants such as Harvard University, the Organization for Economic Cooperation and Development, Partnership on AI (AI), and SRI International. The 2021 version of this AI Index summarizes the main features of AI development in 2020.
First, investment in the AI field for drug development has increased significantly. The use of AI in the fields of drug development, cancer treatment, and new drug development is attracting more attention than ever, and in 2020, the total amount of AI-related private investment, M&A, and global investment increased by nearly 40% compared to the previous year. In 2020, the total investment in drug development using private AI recorded more than 10.5 trillion won, which is 4.5 times that of 2019.
In fact, efforts are being made to find those that are effective against other diseases among existing drugs using AI, or to predict breast cancer outbreaks using AI, and to discriminate between those who have cancer immunotherapy effects and those who do not. Meanwhile, funding for AI-related startups has been declining for the third consecutive year.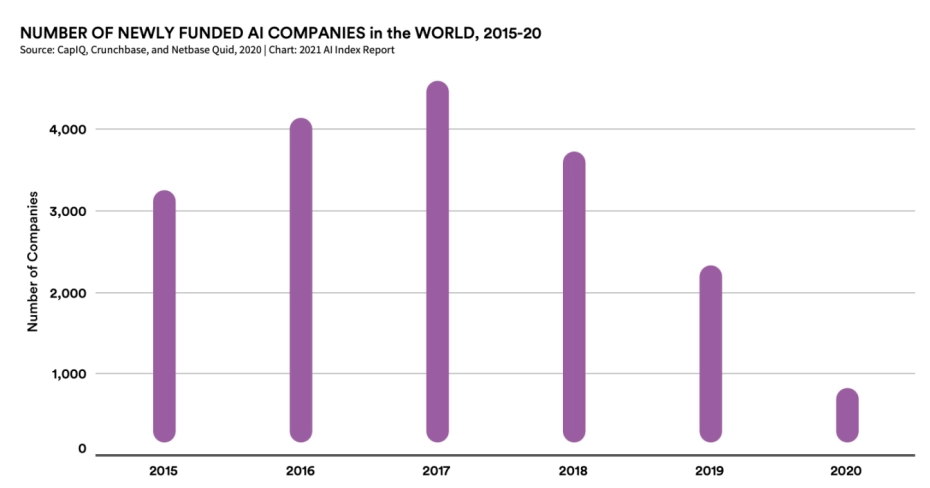 Second, the industry is continuing to change. In 2019, 65% of PhD graduates in North America are entering the AI industry, and this number is increasing from 44.4% in 2010.
Third, AI generates everything. Systems using AI are supposed to be able to automatically generate text and audio images at a sufficiently high level. Therefore, humans are struggling to perceive what AI generates as AI-generated. For example, if you use a site that can create virtual human photos using AI (This person does not exist), you can feel the level of the photos AI generates.
In addition, a website that identifies real person photos and virtual person face photos created by AI in a quiz format is also appearing, and using AI, you will be able to feel the creation of photos at a level that is difficult to distinguish whether they are real or not. However, it is also pointed out that an AI that can create a portrait picture in a novel is being used.
Efforts are being made in the audio field using AI, and web applications such as DrumBot, which automatically practice drum parts according to music, appeared, and AI TravisBott, who learned the song of rapper Travis Scott, released a new song. .
In the original field, it is easy to create too high-precision text, so the development team said it was too dangerous. Interacting with humans attracted attention.
The next thing is that AI makes diversity a challenge. Among the graduates of the U.S. resident doctorate in 2019, 45.6% were white, 22.4% Asian, 2.4% African American, 3.2% Hispanic, 1.6% non-Hispanic, and 24.8% unknown. In addition, it is said that only 18% of those who have completed doctorate degrees in AI are women.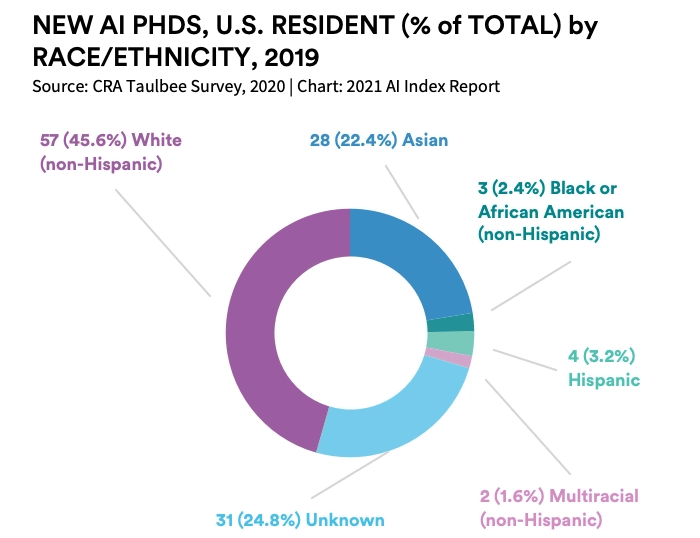 The next is that China has overtaken the United States in AI paper citations. Chinese scientific research is progressing remarkably, and it is said that in December 2019, China outpaced the United States in the number of chemistry papers published. In addition, China surpassed the US in the number of citations for papers. However, over the past decade, it is known that the United States has published far more AI-related papers and cited far more than China.
The following is that most of the graduates of the doctoral programs related to AI in the United States are from overseas and have stayed in the United States after graduation. The proportion of international students among the graduates of AI-related PhD programs in North America continues to increase in 2019, reaching 64.3%. This figure is a 4.3% increase from 2018. In addition, 81.8% of them remain in the United States even after graduation, and only 8.6% of them say they work outside the United States.
Seventh is that surveillance technology becomes increasingly ubiquitous as it becomes faster and cheaper. The technology required for large-scale surveillance has developed rapidly. Technologies such as image classification, facial recognition, video analysis, and voice recognition used for monitoring all made great progress in 2020.
Among the surveillance-related technologies, the representative face recognition technology is evolving to a level that can be used not only for human faces, but also for identifying remaining animals or livestock entities. Meanwhile, IBM has expressed its withdrawal from the facial recognition market, and the introduction of facial authentication systems in large cities in the United States has been banned, raising concerns in terms of privacy protection.
The eighth is that AI ethics lacks benchmarking or consensus. Many research groups are producing qualitative or normative outcomes in the field of AI ethics. However, this field points out that there are generally no benchmarks to measure or evaluate the relationship between the broader social debate on technology development and the development of technology itself. In fact, there are various discussions about stopping AI development due to ethical issues, and as a result of analyzing 500,000 blogs and 60,000 articles, it turns out that AI ethics posts are the most popular among AI-related articles. In addition, articles on AI ethics that made the industry buzz in 2020 include Rome's appeal on AI ethics presented by Pope Francesco of the Roman Catholic Church in collaboration with Microsoft and IBM, and Timnit Gebru, technical leader of the Google Ethical AI Team. Examples of dismissal of a doctorate are given.
The ninth is that AI is getting the attention of the US Congress. The 116th Congress, which has been running from January 2019 to January 2021, is held between January 2017 and January 2019, and the number of remarks on AI has tripled compared to the 115th Congress.
In addition, from the data provided by LinkedIn, the highest level of AI technology was adopted from 2016 to 2020 in Brazil, India, Canada, Singapore and South Africa. TensorFlow, the most popular AI-related software library in the number of GitHub repositories, increased the number of AI papers published in the archives (arXiv) from 5,500 in 2015 to 35,000 in 2020. Related information can be found here.