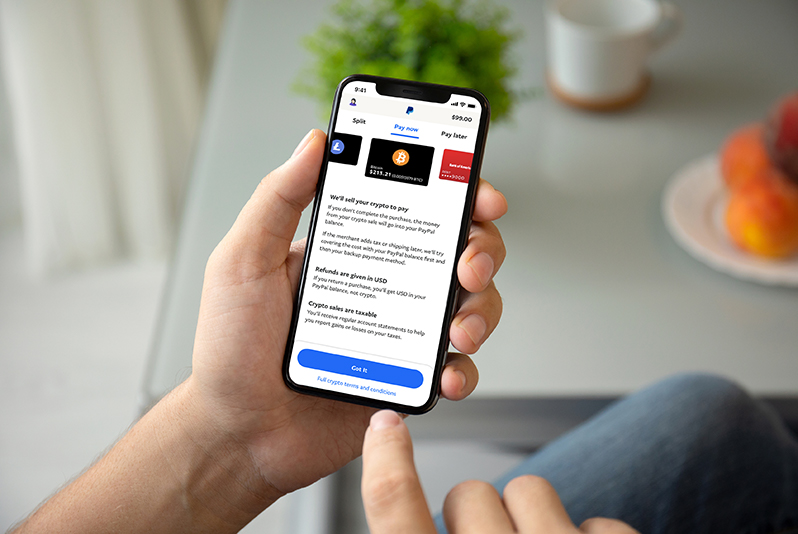 PayPal, a major payment service, announced on March 30, 2021 (local time) that it has launched Checkout with Crypto in the U.S. that allows payments to crypto assets. This allows users who hold Bitcoin, Ethereum, Bitcoin Cash, and Litecoin in their PayPal digital wallet to automatically exchange and pay these cryptographic assets when making payments.
PayPal's official Twitter account announced Checkout with Crypto on March 30, allowing customers using PayPal to checkout using cryptographic assets when paying for online shopping. Fully integrated with the PayPal payment process, users can quickly convert crypto assets into dollars without additional fees.
In order to use Checkout with Crypto, paypal ddlehd as payment as in the normal payment steps. Select the cryptographic asset to be used for payment and press the payment button. Since the screen shows the dollar fee and the amount of the cryptographic asset to be paid, you can select the cryptographic asset to be used for payment considering the market price.
Checkout with Crypto does not take any additional fees when paying, and the method is the same as paying with a credit or debit card, so there is no unnecessary effort. Checkout with Crypto can automatically show cryptographic assets in your payment method if your PayPal wallet contains a sufficient amount of cryptographic assets. There are four types of cryptographic assets corresponding to Checkout with Crypto: Bitcoin, Ethereum, Litecoin, and Bitcoin Cash, and there is only one cryptographic asset that can be used for payment at a time.
When paying with Checkout with Crypto, the selected cryptographic asset is automatically converted into legal currency, and both payment and purchase of goods in cryptocurrency are recorded as records. There is no fee for checkout with crypto, but there is a difference between the selling price and the buying price when converting crypto assets into dollars.
In an announcement, PayPal CEO Dan Shulman said that digital settlements such as PayPal and the spread of digital currencies such as cryptographic assets are accelerating.Checkout with Crypto provides a variety of payment method choices and flexibility using PayPal wallets, while providing the mainstream payment method for cryptographic assets. It said that it will continue its efforts to make it one of them.
PayPal announced in October 2020 that the payment service will be available to all 29 million merchants worldwide in the coming months. Related information can be found here.