Apple is known to focus on artificial intelligence-related fields. As proof of this, a survey result was announced that acquired the world's largest number of AI companies between 2016 and 2020. GlobalData, a data analysis consulting firm based in the UK, announced the TOP5 that acquired AI companies related to artificial intelligence in recent years.
According to this, four of the high-tech companies are Apple, Google, Microsoft, and Facebook, and Accenture, a comprehensive consulting company, was named. Apple has launched a number of AI companies (Emotient, Turi, Glimpse, RealFace, Shazam, SensoMotoric, Silk Labs, Drive.ai, Laserlike, SpectralEdge, Voysis, XNOR.ai) to enhance AI and machine learning capabilities in its products or services. That it took over.
Above all, Apple is not promulgating all the acquisition agenda. CEO Tim Cook said at a shareholders' meeting in February that Apple has uncovered more than 100 companies over the past six years and that the company is reviewing without fear of any size acquisitions, and the focus is a small, innovative company that helps complement and evolve its products .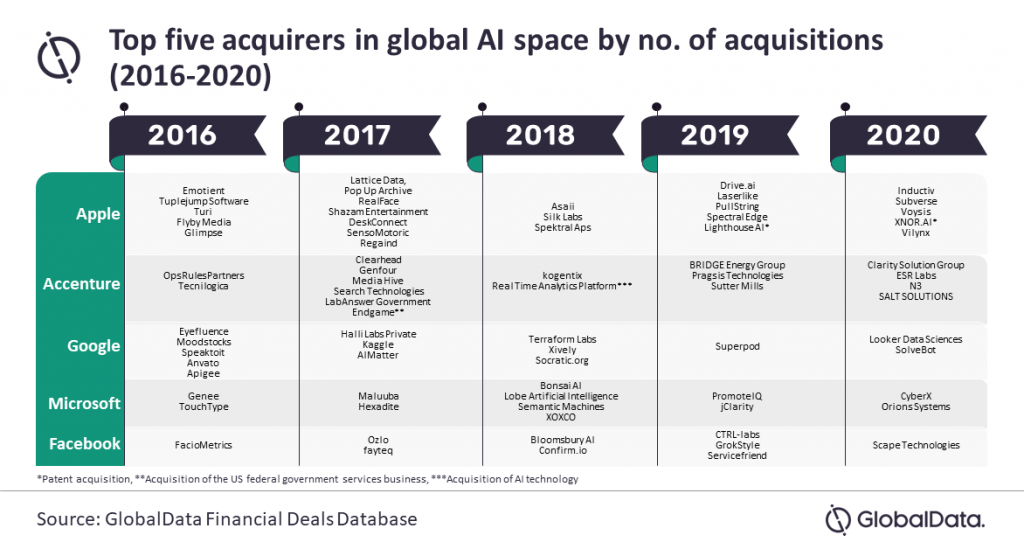 Global Data said that technology companies have high competition for acquisitions in the AI field, and 60 acquisitions took place in 2016-2020, including Apple, Google, Microsoft, and Facebook, and of them, Apple ranked first with 25. Most of what Apple has acquired is speculated to improve Siri. Inductiv, Voysis, as well as Pullstring are seen for the purpose of reinforcing Siri.
Global Data said that Apple was busy in the shopping field to catch up with Google and Amazon, and said it was one of the reasons why Siri was first released, but in terms of being clever, both companies consistently fall and Apple is lagging behind in smart speaker sales.
Regarding the acquisition of Xnor.ai, it was interpreted as to improve on-edge processing capability, saying that it is becoming more important to increase privacy protection as there is no need to send data to the cloud. In Apple products, privacy is becoming an important part of the commodity value. To this end, Apple's move can continue in the future. Related information can be found here.