The rowhammer attack exploits a vulnerability that can manipulate data stored in another address that can be accessed repeatedly in one DRAM address. Of course, the chip maker's countermeasures have solved it considerably, but a Google researcher has announced a technology called Half-Double, in which the attack range is spread through memory miniaturization.
The old hanghammer was that repeated access to a DRAM specific address would detect bit inversions in two adjacent lines. However, it has been confirmed that the newly discovered half-double jumps over the adjacent line and propagates the bit inversion.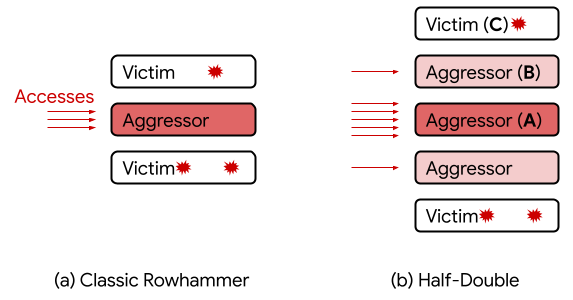 According to the experimental results, when the majority access was concentrated on A (Aggressor), some of them were passing through B (Aggressor) to C (Victim). Half-double is a characteristic characteristic of silicon substrates, and it is thought that the propagation distance will increase as the cell size becomes smaller.
Google has been working with the semiconductor engineering industry group JEDEC and other industry partners to find countermeasures and solutions for hanghammers. This disclosure is intended to appeal to all stakeholders to participate in the project in order to develop more practical and effective solutions. Related information can be found here.