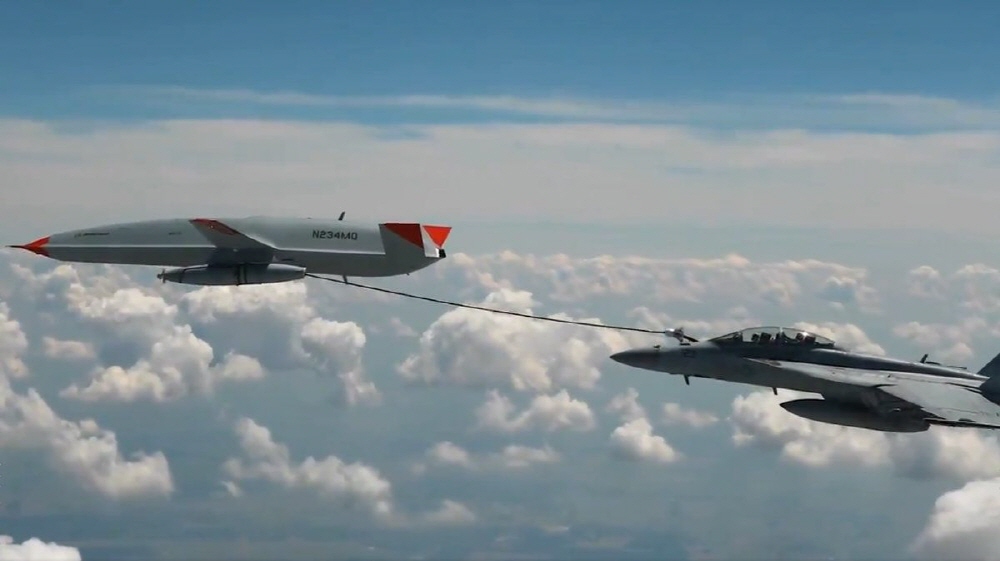 The US Navy succeeded in testing the F/A-18 Super Hornet in mid-air on June 4 (local time) using the MQ-25 Stingray, an unmanned aerial tanker developed by Boeing. This is the first aerial refueling operation with an unmanned aerial tanker.
The U.S. Navy revealed plans to introduce an unmanned aerial tanker the same size as the F/A-18 in 2016, and signed a $805 million development contract with Boeing in 2018. And on June 4, 2021, the MQ-25 test aircraft, which took off from Illinois Airport, approached the F/A-18 with the pilot on board, connected the refueling hose, and succeeded in receiving refueling.
The MQ-25, developed by Boeing, is an unmanned aerial vehicle, so there is no cockpit for the pilot to ride. The fuel hose protruding from the refueling pod located on the abdomen of the MQ-25 is refueled by connecting its own refueling pipe to the umbrella-shaped part located at the end of the drog. It is said that the two refueled aircraft approached a distance of 6m.
The test flight collected data on the MQ-25 wake and approach aircraft interactions, as well as guidance and control evaluation of refueling. The US Navy and Boeing will analyze this data in detail and decide whether to make further adjustments to the MQ-25 software.
The U.S. Navy said this flight will lay the groundwork for the integration of unmanned aerial vehicles into the carrier environment, providing a higher opportunity toward the concept of unmanned and unmanned formations. The MQ-25 will significantly increase the range and durability of aircraft carrier wings in the future. said.
In addition, the MQ-25's role as an aerial tanker will allow the F/A-18 to provide greater flexibility and capability in the carrier squadron, while the MQ-25 will serve the critical mission of refueling the F/A-18. It is an important and exciting moment for the Gunn Navy and a concrete step forward to increase MQ-25 capabilities for the fleet.
Testing with the MQ-25 is expected to continue over the next several months, with actual demonstrations on the deck of an aircraft carrier in late 2021. Related information can be found here.