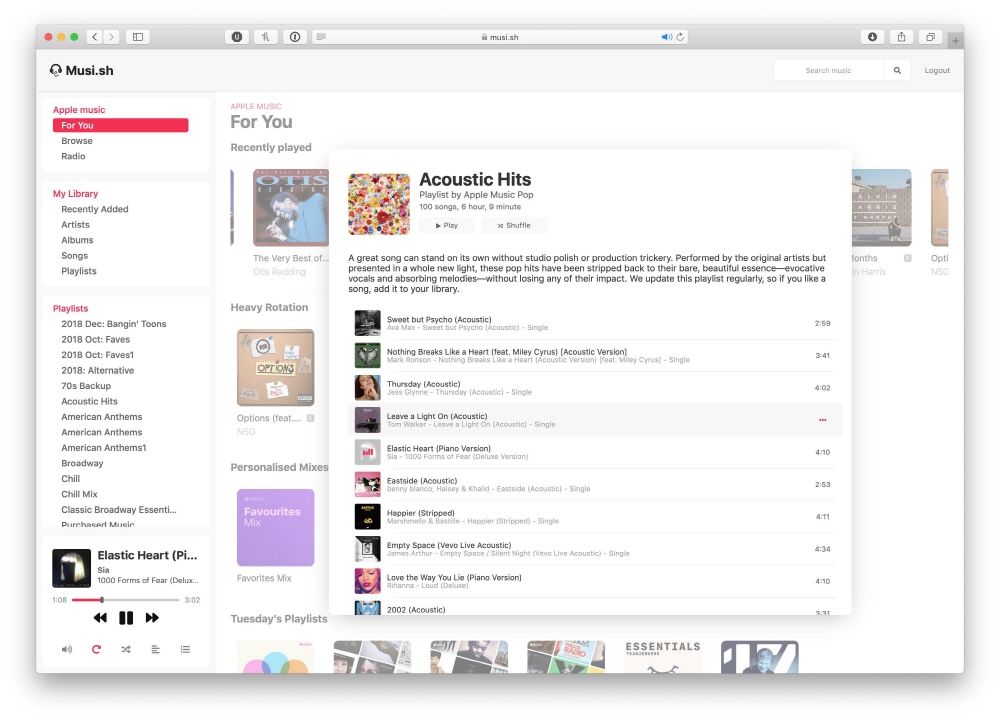 Apple doesn't have much presence in its web applications, but when you access iCloud on the Web, you can access various functions such as email, calendar, photos, and contacts. But it doesn't include Apple Music. Of course, Apple has made an API and provided it to developers, so you can use a third-party web service that can play Apple Music.
The reason why it allows access to playlists and songs on the web, rather than working on iOS devices, is that it can be accessed from work or a friend's PC, listening to music, or used in places such as Google Chromebooks. because you can
Musish is a web-based Apple Music player. It has a UI design similar to that of iTunes and Apple Music, and since it is open source, you can check the code. Because of the limitations of the API, it cannot be said that the radio function is sufficient. The search function is displayed on the upper right, and when using iCloud Music, the playlist is synchronized and displayed on the left.
Artist pages, playlists, and search results are displayed in full screen. When you click on an album or song, a pop-up window appears and you can enjoy music with one click. Volume control, shuffle, and repeat can be controlled from the mini player.
Next up is Apple Music Player . This player, which looks similar to Spotify, is also open source. The radio is not accessible and the search is displayed on the left. If you are using the iCloud music library, you can search for music in the Apple Music library separately.
You cannot create playlists or add songs or albums to playlists in this player. If you're syncing with iCloud Music Player, you'll see a list of playlists on the left side of the menu. Also, if you click the gear icon, you can choose between 256kbps or higher sound quality or 64kbps standard.