ICO research firm ICORating said it was generally frustrated when it released its third quarter ICO market analysis report on November 15 (local time).
According to the report, ICO procurement amounted to 597 cases in the third quarter, exceeding $ 1,819.85 million ($ 2.497 billion). However, it was lower than the previous quarter of 8.359 billion dollars (9.417 trillion won).
Investment in venture capital related to the block chain is also showing a decline. 57% of ICO projects failed to raise more than $ 100,000. Investment income was 49.32% in 1Q, -55.38% in 2Q, and -22% in 3Q.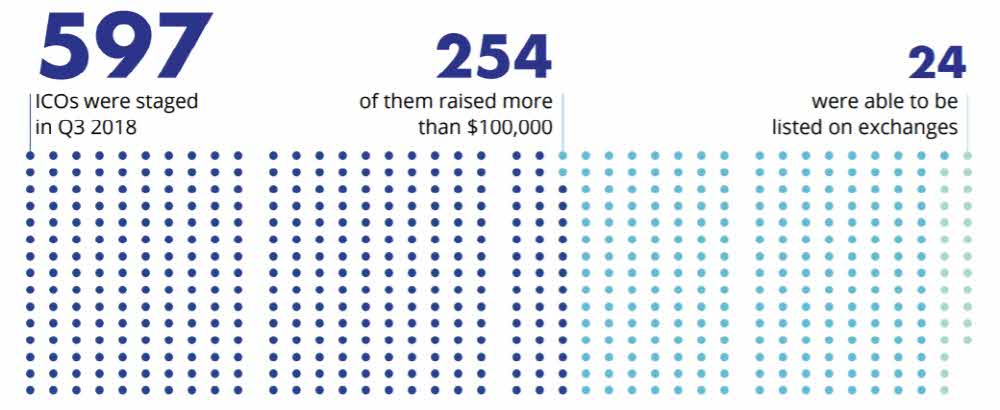 The reason for this decline is the tightening of regulations on financing by the Securities and Exchange Commission. In June, the SEC noted that even though ICOs are not considered securities, many ICO tokens are considered securities.
The total amount of ICO financing decreased by 48% in the third quarter of this year from July to September. Compared with last May, it dropped to 78% in September. In addition, among the tokens sold in the third quarter, tokens sold at the KRX accounted for only 4%, down from 7% in the second quarter.
Of course not here. Of the ICO projects that have been announced in the past, 19% reported a 10% increase from the second quarter when they reported deleting websites or SNS accounts during the third quarter. Projects that have disappeared after financing are said to be 3% of the total amount. In the third quarter, 76.15% of the total remained in the idea stage, up 18.72% from the previous quarter. The choice of etherium as a token sales platform was still high. 83.75% of the total. For more information, please click here .