According to market research firm App Annie, the rising trend of TikTok is expected to continue in 2021. AppAnnie predicts that short video-related apps will exceed 1 billion monthly active users in 2021. In addition, it is also investigating future trends in mobile advertising expenditures, e-commerce, online meetings, and the growth of in-home activities that will be accelerated by mobile.
According to App Any, TikTok has grown nearly three times compared to 2018 as its popularity increased. As of the third quarter of 2020, it ranked second in non-game apps by consumer spending by combining revenue and streaming, such as TikTok ads and virtual gift sales.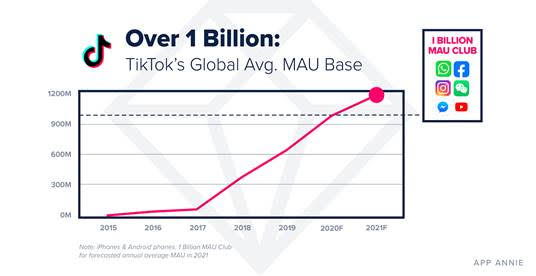 In 2021, TikTok joins the 1 billion monthly active users along with Facebook, Instagram, Messenger, WhatsApp, YouTube, and WeChat, and actually breaks the milestone of 1 billion and averages 1.2 billion. It is predicted that it will reach monthly active users. This prediction is surprising given that TikTok is still banned in India, one of the world's largest mobile markets. Of course, the fate of social video apps in the United States will depend on how the next regime after Trump will deal with the ban on TikTok. Of course, there are also signs that Biden is not very different from Trump, according to reports.
App Any also predicts that in 2021, home activities driven by mobile will continue to grow. News about the Corona 19 vaccine is pouring out, but it is still difficult to turn everything back to before Corona 19. Corona 19 is accelerating a trend that was already underway.
According to the report, the number of hours spent in major household categories, such as remote business and education applications, e-commerce, mobile finance apps, and home fitness apps, will exceed 1.3 trillion hours on Android smartphones alone by 2021. Specifically, remote business apps, such as Zoom, are expected to grow at an annual compound growth rate CAGR of 57% and distance learning apps by 62%. Mobile banking and financial apps are projected to reach over 31 billion hours per year in 2021 and a CAGR of 35% over four years. Fitness and e-commerce are also expected to grow 23% and 40%, respectively.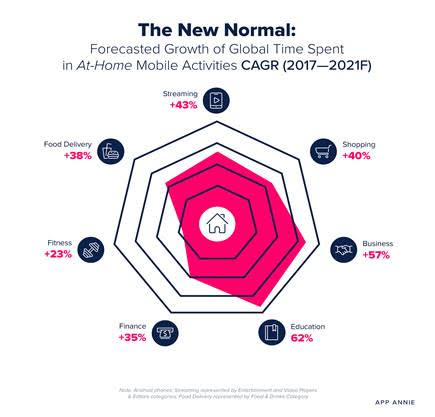 In addition, in the United States, the number of video streaming app installations is predicted to increase by up to 85% compared to the level before Corona 19 in 2021. In addition, mobile advertising is expected to reach $290 billion in 2021 thanks to the rapid growth of mobile commerce and the conversion of offline advertising to digital advertising. Related information can be found here .