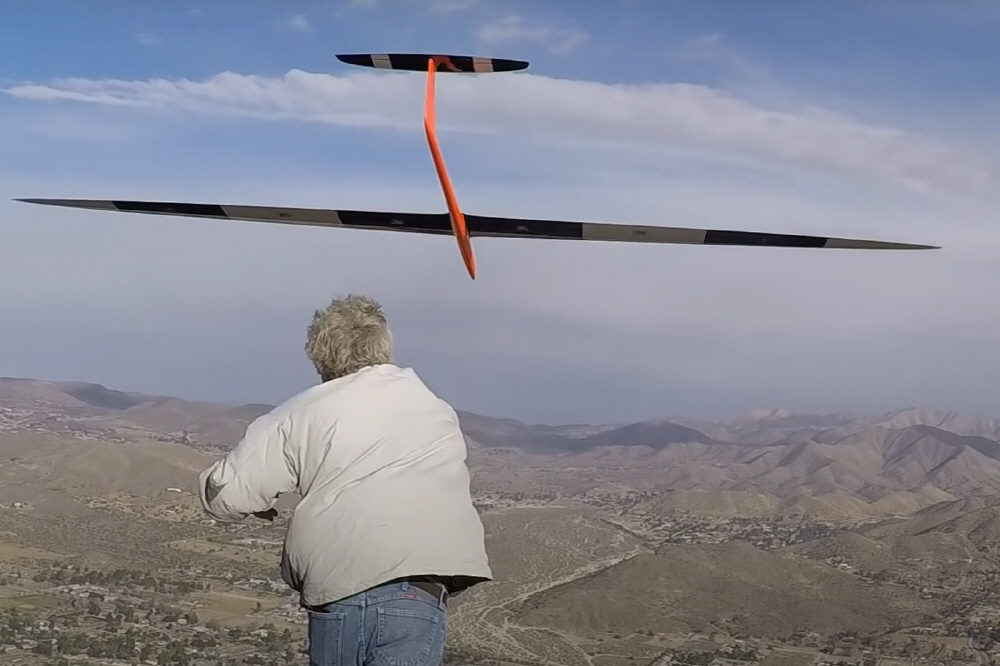 The world's fastest record for flight speeds using radio-controlled RC airplanes. The speed recorded by the RC glider, which neither uses a motor nor an engine, is a whopping 882 km/h.
This record is based on a special flight method that has been popular since the 1990s in the field of radio-controlled gliders called Dynamic Soaring. Dynamic glide is a control method in which a strong air current blows from the top on a hill and the glider is continuously increased by controlling the glider as if moving between the two sides using the difference in speed of the air current that is congested or sucked up the hill from the wind bottom.
The glider reaches a speed of sound between Mach 0.8 and 1.2 when an experienced pilot repeats the dynamic glide without mistake using a special RC glider with a light weight and high strength. The force applied when turning can reach a maximum of 100G, so if the gas is of low strength, it may be decomposed in the air.
German aerodynamic experts and the University of Stuttgart collaborated to create a dynamic gliding RC glider designer Spencer Lisenby on January 19, 2021 at Mount Hood, located north of Los Angeles, at 548 miles, which exceeded the highest speed record of three miles so far, 882 km/ recorded h.
It was too fast, so I used a radar gun for measurement. The dynamic soaring flight world record does not have an official accredited body, so the measuring party must provide a fair way to measure it. If you look at the video shot by Risonby with a GoPro fixed on his head, the flying glider gradually accelerates as if drawing a narrow circle from the mountain ridge to the ground, and at the end it has a speed that cannot be seen with the naked eye. It is not easy to fly a flying glider at a speed close to the speed of sound into turbulence and keep flying while making detailed adjustments to suit the situation.
For reference, Shincheonong, a large migratory bird, is said to instinctively use dynamic glide to travel hundreds of miles over sea with at least energy consumption. The first mention of this was in a paper published in the journal Nature in 1883. The developer is planning to create a UAV that can fly long distances with minimal energy consumption in the future by mimicking Xin Chun-ong's dynamic gliding flight. Related information can be found here .