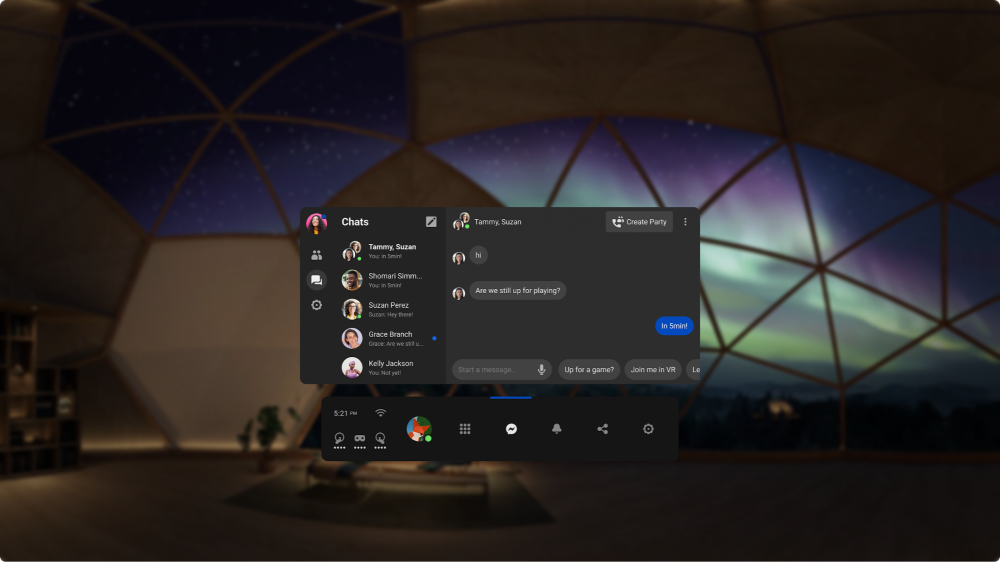 On February 2 (local time), Facebook has updated the software for the virtual reality headset Oculus Quest and Quest 2.
With this update, you can use Facebook Messenger in virtual reality by logging into Oculus Quest or Quest 2 with your Facebook account. It also provides an App Lab, where developers can provide applications to users without app store approval.
First, the messenger function is to simply use Facebook messenger without removing the virtual reality headset. Even if your friends don't use virtual reality, you can always communicate with each other if you can use the messenger with your PC or smartphone.
In virtual reality, messenger transmission can be performed in a variety of ways, such as text input using a virtual keyboard, as well as text input written in advance or text conversion input. Of course, you can also use the chat function, and you can create a messenger member Oculus Party and play games together.
After 2023, Facebook announced that Oculus would require users to log in with their Facebook account, and criticism poured out. However, it seems that there was also the purpose of appealing the merits of integrating even a little, such as allowing the use of messenger in virtual reality.
In addition, an AppLab function was added that allows developers to provide applications to users without app store approval. If you conduct beta testing of the app under development so far, it was necessary to introduce it by sideloading, but this effort can be reduced. In addition, if you want to make it available only to specific users, such as close beta, it is possible to send a key directly to the target.
Software updates with these features are slowly evolving. It may take some time to apply to all users. Related information can be found here .