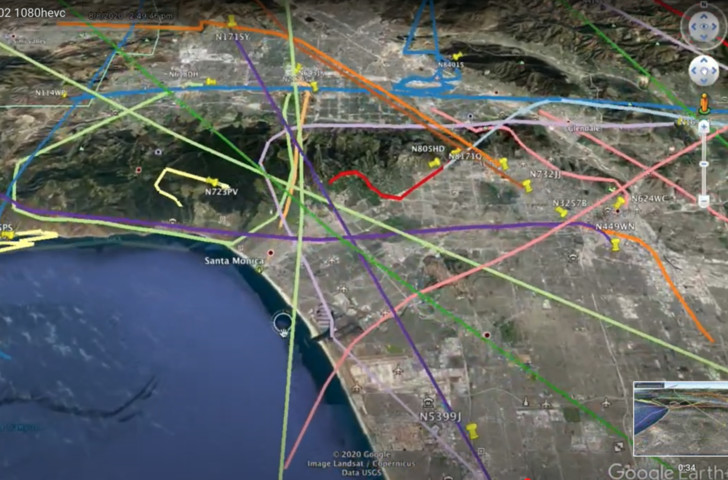 SkyCircl.es is a bot that detects airplanes orbiting over the city and automatically posts the flight log and registration information to Twitter.
On April 12, 2015, in Baltimore, Maryland, USA, 25-year-old African American man Freddie Gray died during police interrogation. A few days before the incident, a video of the Baltimore police killing a black Walter Scott was leaking, and distrust in the police was escalating, and Gray's death led to a massive protest in the city of Baltimore.
Then, a man named Benjamin Shane, who ran Scan Baltimore, a site that wirelessly eavesdropped on Baltimore police, learns of the existence of a plane turning repeatedly over Baltimore during the riot. Shortly after he publicly expressed doubts, one of his followers posted the Cessna182 flight log registration information, and further investigation revealed the possibility that a company called NG Research in the flight registration information was an FBI-related organization.
Reportedly, in response to the uproar in the city of Baltimore, the FBI provided aircraft to the Baltimore Police for the purpose of providing aerial photographs showing possible criminal activity, and the aircraft was able to swiftly respond to ground police officers at high altitudes for possible criminal activity. He admitted that there was surveillance in the air, saying it was used for monitoring.
On May 25, 2020, in Minneapolis, Minnesota, black George Floyd was killed by police. As a result, anti-racism protests in Minneapolis took place, some protesters, like Baltimore, rioted, and anti-racism movements spread to all cities in the United States.
In response, engineer John Weisman built a system to detect planes participating in the FBI's secret surveillance program in the 2020 racial discrimination demonstration, as if it might be monitoring from the air like the 2015 Baltimore riots.
In addition, it has released a sky circle that discovers aircraft orbiting over each city and uploads flight logs and information to Twitter. SkyCircle checks planes flying over Baltimore, Minneapolis, New York, Los Angeles, San Francisco, Portland, and Chicago, and automatically posts their flight logs and call sign registration information to Twitter.
SkyCircle itself has created an effective project with a simple effort, but the plane reported to SkyCircle has revealed that it includes not only FBI planes monitored from above, but also power lines and pipeline inspections, forest monitoring, and test flights. SkyCircle was developed as open source, and the source code is available on GitHub. Related information can be found here .