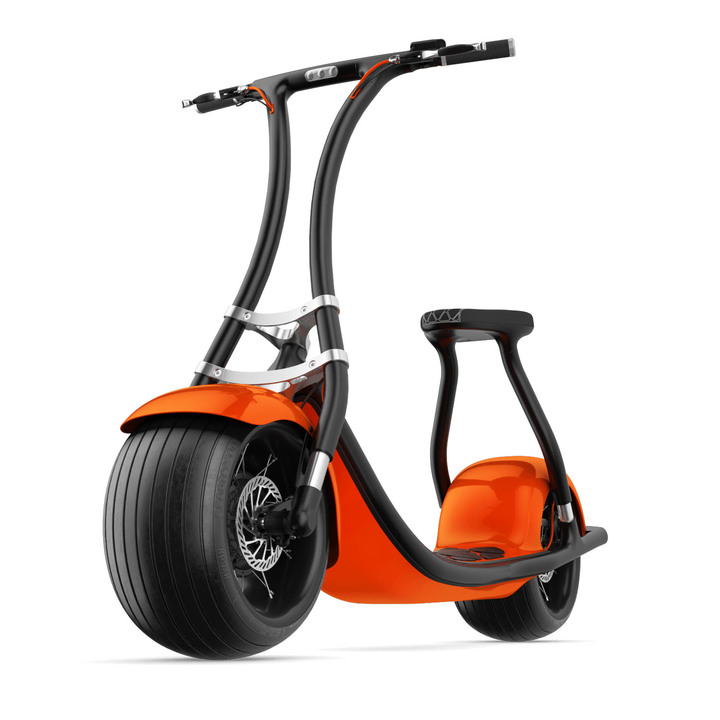 Rolley is an e-scooter with thick tires that can be shared via a smartphone. Using motion detection and algorithms, it accelerates with a kick scooter-like movement without turning or shifting the throttle. The rear wheel has a built-in hub motor with 750W gear, and a 600Wh rechargeable battery is charged for 3 hours, so when a person weighs 73kg, it can run a distance of 48km. The top speed is 32km/h by US regulatory standards and 25km/h in Europe.
It has front and rear disc brakes, and the frame is made of aerospace-grade aluminum, so it is strong but light and weighs 31kg. The size is 1,620mm in length, 1,040mm in total height, and 700mm in width.
Raleigh has no display, but you can attach a keyless releaseable smartphone to the handle to perform tasks. The screen displays information such as speed and distance, remaining charge, and the gear currently in progress by automatic driving, and other lights can be turned on or off. It is also possible to connect to the cloud and automatically update.
The standard model is priced at $2,699 and the top model, the rolley +, is priced at $2,999. The Raleigh+ also supports theft detection and notifications, as it can remotely unlock or unlock, and acquire GPS location information, as well as the ability to share ride privileges on smartphones of friends and acquaintances. With this function, you can do a shared business with only one. More information on the product can be found here .