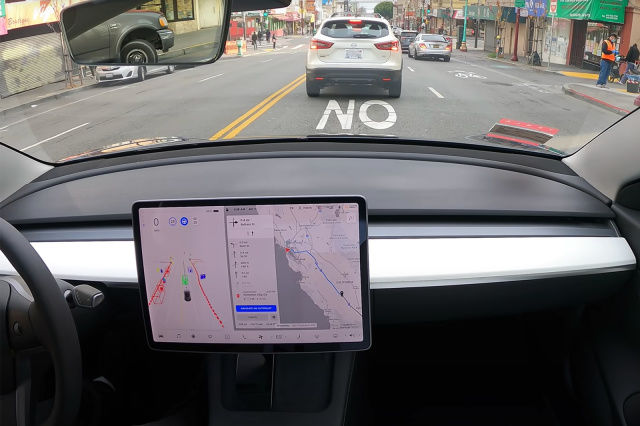 In an email sent by Tesla to the California Department of Motor Vehicles in late 2020, it said that the in-vehicle Full Self-Driving (FSD) option did not provide full self-driving capabilities.
Tesla CEO Elon Musk has mentioned in recent years that fully autonomous driving could soon become practical. For example, at an investor event in April 2019, Tesla predicted that within 2020, Level 5 autonomous driving, in which cars can drive without any driver intervention at all, will be realized.
In addition, at the end of last year, Elon Musk said that he is confident that it will reach Level 5 by 2021, emphasizing that development is underway even if the original schedule is not met.
In October 2020, Tesla launched the data collection beta program by providing FSD beta software to dozens of Tesla owners. Not long ago, it announced plans to make the beta software available to a wide range of people. As the amount of driving data to be collected increases exponentially, Tesla software reliability is expected to improve in the next few months.
However, at the same time that the FSD beta program began, when the DMV of the California Department of Motor Vehicles asked Tesla for more information about the FSD beta program, Tesla responded, and the FSD software responded to: It said that the realization of fully autonomous driving was not realistic yet, as it recorded that it was not possible to recognize or respond to large intersections and closed roads without traffic lights, extreme weather, congestion and reverse driving vehicles, and unmapped roads on the driving route.
In the answer, Tesla admits that it does not believe that the FSD beta software is suitable for the realization of full length driving, and says it will only be possible in the future when it is time to start testing true autonomous features.
In a follow-up document submitted afterwards, he added that he believes that there will be little functional change even if the FSD software is released to certain customers in the future. FSD explained that it maintains the Level 2 Driving Assistance function, saying it does not expect significant improvements, such as taking over all the functions necessary for driving a car.
Level 2 autonomous driving is a combination of lane keeping and adaptive cruise control to automate some of the driving, and drivers must constantly monitor the situation so that they can return to driving at any time. Tesla has told DMV that FSD software cannot cross this threshold. In addition, it is revealed that the development of the true autonomous driving function by Tesla is performed according to the iterative process such as the company's development, verification, and early release, so it will not be disclosed to the public until the verification is completed.
This doesn't mean that Tesla will not provide fully autonomous, that is, Level 5 autonomous driving capabilities in the future. However, it seems that Tesla's customer and general publicity is giving the wrong image of the FSD option. At least, it may be difficult for Tesla to provide Level 5 fully autonomous driving capabilities by the end of 2021.
For reference, companies, including Google's Waymo, believe that the requirements for fully autonomous vehicles are significantly different from those required for a level 2 or lower driving support system, so it is more reasonable to build them in an unmanned taxi or shuttle service. In fact, Tesla may be developing a completely new system, not an improved version of the driving assistance system like Waymo, in order to realize the final fully autonomous driving. Related information can be found here.