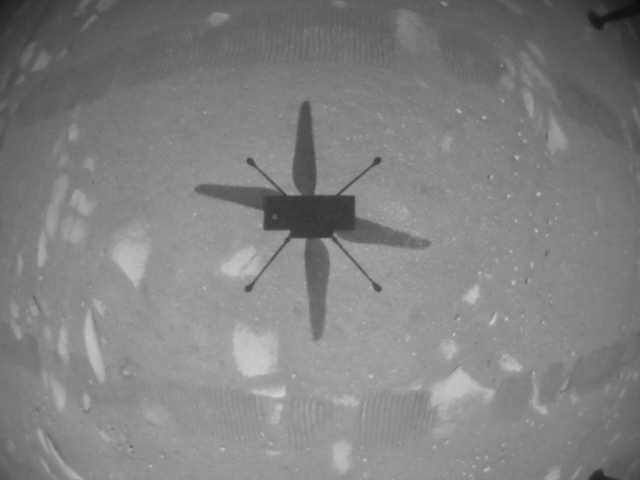 NASA is the first to fly a rotating wing aircraft on a non-Earth planet. The Mars helicopter Ingenuity climbed to a height of 3m on April 19, maintained its altitude for 30 seconds, and then landed on the ground. NASA named Ingenuity's first flight location the Wright Brothers Field, which was named after the Wright brothers who invented the power plane.
Flight data includes a black and white photograph of Ingenuity looking down in the air, looking down on his own shadow. Ingenuity plans five flights. NASA's ground control is over 287 million kilometers, so you'll have to wait three hours or more to see if your first flight is successful.
Eventually, when the data arrived, applause and cheers poured into the control room. This moment continued until a black and white photo was displayed that captured the shadow of a helicopter floating on the surface of Mars. In addition, Perseverance, a Mars rover, captured the color image that captured Ingenuity's stable flight from the ground.
Atmospheric pressure on Mars is only about one-160th of the Earth, and the generation of rotor lift is reduced. Therefore, for a helicopter to appear, it is necessary to rotate two rotor blades rotating in opposite directions at 2,500 rpm. This is five times the number of revolutions required to float on Earth. With the thin carbon dioxide-based atmosphere, engineers had to build enough lightweight helicopters with enough rotational speeds and blades to generate the required lift.
Ingenuity, which took 6 years to develop, has a carbon fiber rotor and its rotor blades are 1.2m from end to end. It is about 50cm tall, and the rest is the size of a tissue box, and contains all the items necessary for proper operation in the harsh Martian environment, including batteries, heaters, and sensors.
Ingenuity also has the strength to withstand Martian winds, and the solar panel to charge the battery is designed to accumulate power during the day and overcome the Martian night, which is 90 degrees below zero.
Ingenuity's next flight may not take long. NASA is scheduled to conduct its second flight on April 22nd. This flight is said to mean that Ingenuity will fly up to 50m away from the facility for up to 90 seconds.
This success proved that motorized flight was possible on Mars. In the future, spacecraft may appear in formation and flying in the Martian sky. Related information can be found here.