Market research firm Canalys announced the number of smartphone shipments in the first quarter of 2021. According to this, worldwide smartphone shipments reached 347 million units, showing rapid growth, increasing by 27% compared to the same period last year.
According to Canalis, the highest shipment volume in the first quarter was Samsung Electronics, which introduced the Galaxy series, with 76.5 million units shipped. Compared to the 59.6 million units shipped in the same period of the previous year, it grew by 28%. Samsung Electronics announced the first quarter settlement on April 29th. Samsung Electronics' sales in the first quarter increased by 6% from the same period of the previous year to KRW 65,390 billion. The operating profit is 9.38 trillion won. According to Samsung Electronics, sales of smartphones increased and demand for digital devices and TVs was solid, leading to a year-on-year increase in profits. However, it is explained that smartphone sales are expected to decrease in 2Q due to insufficient supply due to semiconductor shortages.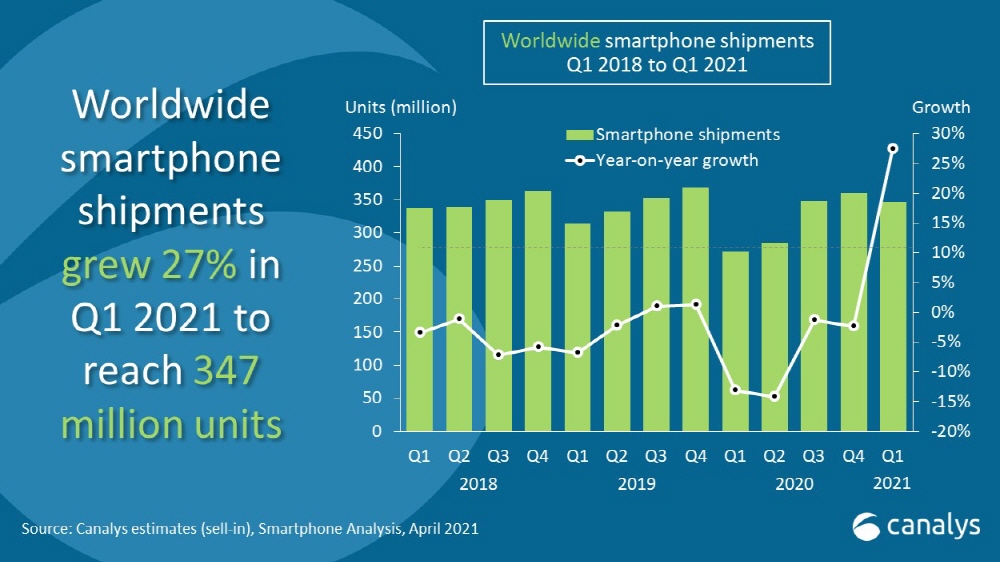 Apple shipped 52.4 million units, with a market share of 15%. The number of iPhone 12 mini shipments, which is said to be the worst in the series, was less than expected, but the iPhone 11 demand also increased, indicating that the overall sales of the iPhone series were not bad. After Apple announced its second quarter results, it revealed that iPhone sales during the same period reached $47.9 billion, a 65.5% increase from the same period last year.
Xiaomi, ranked third, recorded the highest sales so far. It recorded 49 million units, an increase of 62% compared to the same period last year. With 37.6 million units of Oppo and 36 million units of Vivo, Chinese smartphone makers ranked in the top 5 shipments. On the other hand, Huawei, one of the largest smartphone makers in China, was excluded from the U.S. market in 2020, and shipments fell to 18.6 million units, the seventh place.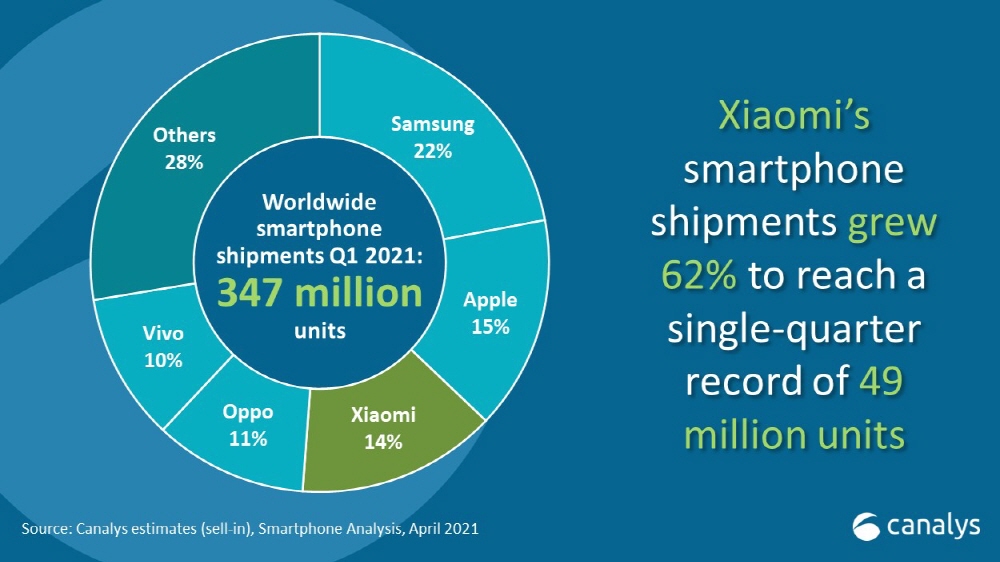 In addition, as LG Electronics, which had recorded a certain share in the Americas with cheap smartphones, announced withdrawal from the smartphone market in April, it is also pointing out the possibility that companies such as Motorola, Nokia, and ZTE will increase their shipments.
Canalis said that the Corona 19 epidemic is still a matter to consider, but there is no major bottleneck already, and the supply of key components such as chipsets is becoming an important issue, and it will block smartphone shipments in the next few quarters, so manufacturers will need to rethink regional strategies for each global brand. It is analyzed that there is a need. Related information can be found here.