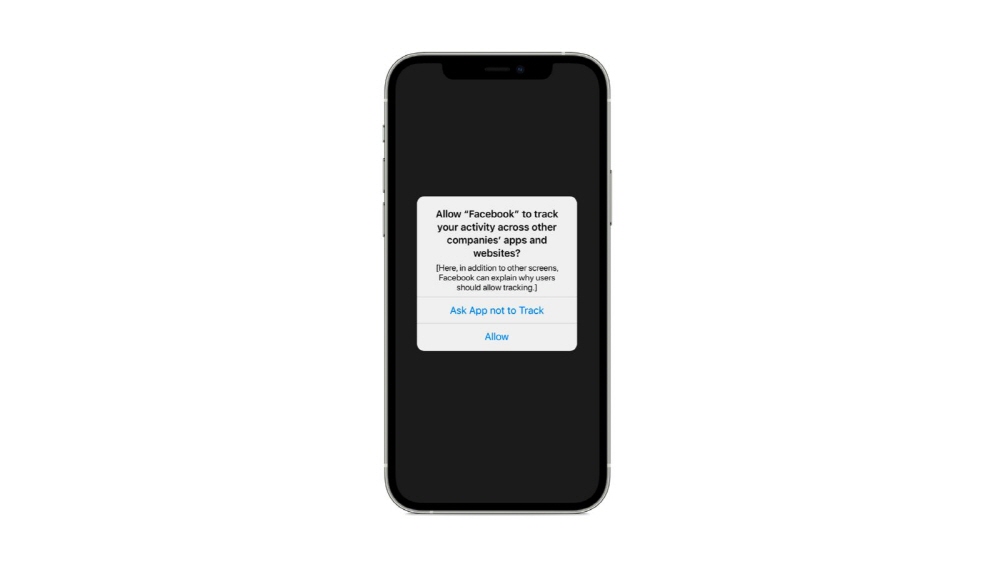 In iOS 14.5 or later, which Apple started distributing a while ago, App Tracking Transparency (ATT) introduced a structure that requires explicit permission from users when an app tracks users across other webs and apps. In other words, it mandates that the app prompts and obtains user permission before tracking the user.
In response, a survey is published showing the possibility that 96% of iPhone users in the United States have turned off tracking. The latest data from analyst firm Flurry allows app tracking of only 4% of iPhone users updated to iOS 14.5 in the United States. The survey uses data from the release of iOS 14.5 on 2.5 million active mobile users every day. Also, looking at users around the world, only 12% of all users activate app tracking. In other words, 88% of users have turned off tracking.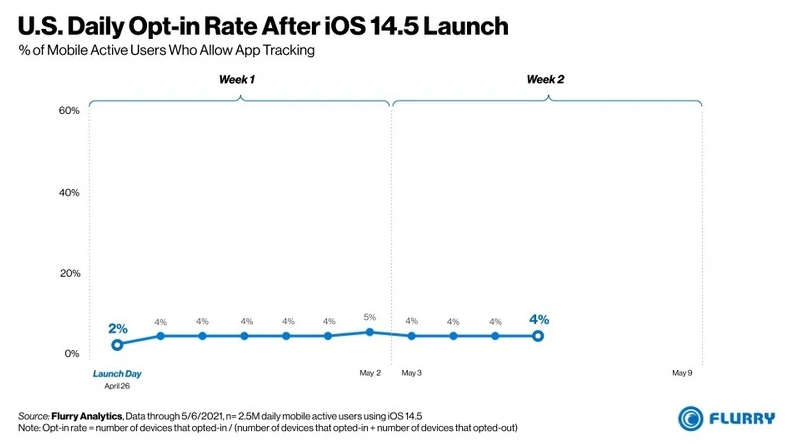 It is between 11% and 13% worldwide and between 2% and 5% in the United States. If this trend continues for the first two weeks, it will be a big challenge for the target advertising market based on tracking data. The strongest objection to Apple's ATT was Facebook, whose main source of income was targeted advertising. IDFA cannot be obtained without user consent under iOS 14.5. In other words, the person cannot be identified, which interferes with the operation of the Facebook Ad Tracker (Audience Network). Therefore, there have been rumors that Facebook advertises criticism of Apple in major newspapers and is even preparing an antitrust lawsuit.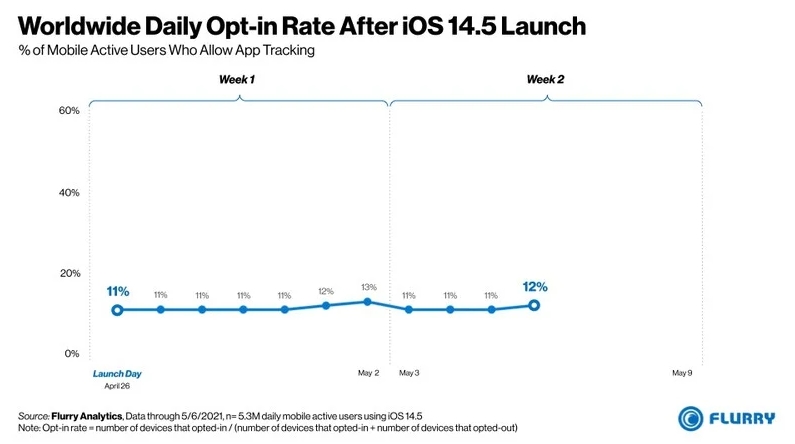 Facebook is appealing to allow tracking if you want to use it for free on the iOS version of Facebook and the Insgatram app, which can also be viewed as being concerned about the ATT impact. On the other hand, Google, which also uses targeted advertising as a big source of revenue, is pushing for FloC. However, this was also criticized for being a serious threat to individuals, and Microsoft disabled it in the Edge browser. In the future, the online advertising industry may face a serious turning point. Related information can be found here.