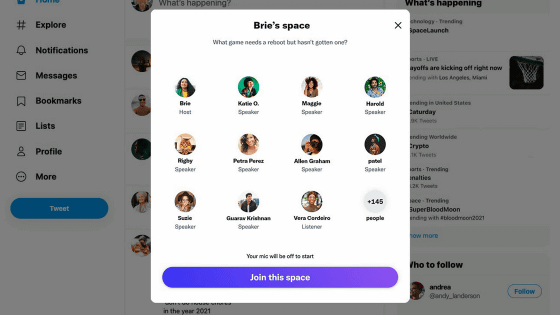 Twitter announced on May 26 (local time) that Space, a real-time voice chat function, will be available on the PC or mobile browser version of Twitter.
Space is an audio chat function that can be said to be a Twitter version of the Club House. Users can enter a room hosted by the host and listen as a listener, and users who participate can also participate in the conversation through a speaker if the application is approved.
Space has been available only on the iOS version or the Twitter app for Android so far. However, the official Space account announced that from May 26th, Space will be available on Twitter.com, and accordingly, Space will be available on PC or mobile browsers.
The browser version allows users to enter the space through notification tweets and tweets displayed by browsing the site (twitter.com/i/spaces/) when they start the space. When you join a space on a PC, a list of participants is displayed on the right side of the screen, and the UI is adjusted to fit the screen size. When the screen size is changed, the space display position changes accordingly. However, currently, you can participate in the space with the browser version, but you cannot directly host the space. Related information can be found here.