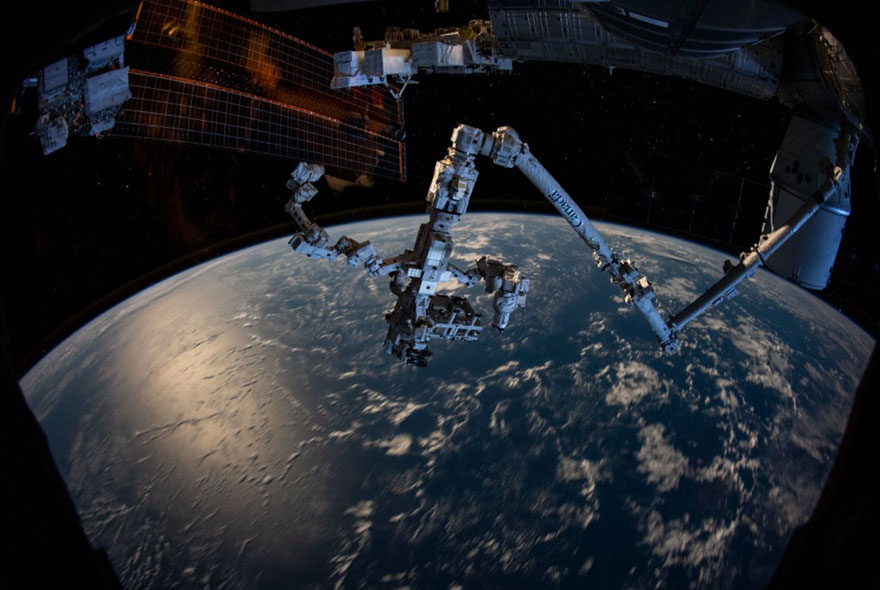 There is concern that a large amount of space debris, such as rockets and satellite fragments, will float in the orbit of the Earth's satellite and will collide with the International Space Station and artificial satellites, causing serious impact. The Canadian Space Agency reported on May 28, 2021 (local time) that it had found traces of colliding with space debris during a routine inspection of the ISS robotic arm.
Since space debris orbiting a satellite is moving at a speed of several km/sec or more, even a small fragment can cause serious damage to an artificial satellite or ISS. Therefore, about 23,000 space debris exceeding 5 to 10 cm in diameter are being monitored, and if it is determined that there is a risk of collision, the ISS orbit is adjusted and resolved.
However, countless fragments of space that are too small to be tracked are floating in space, posing a threat to astronauts and satellite operators. The Canadian Space Agency reported on May 28 that it had confirmed damage caused by collisions with space debris to Canadaarm 2, a robotic arm mounted on the ISS.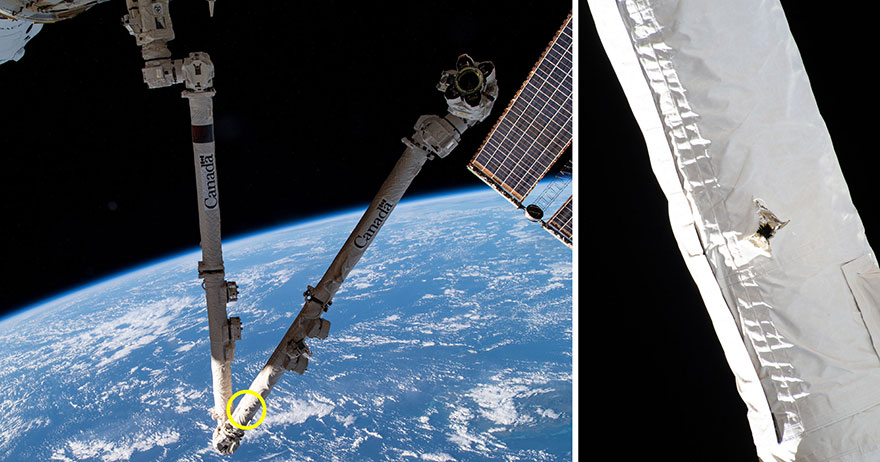 Canada Arm has been operating on the ISS since 2001. Canada Arm 2 is an articulated titanium robot arm designed by the Canadian Space Agency to move large payloads or assist in docking supply ships. The arm diameter is 35 cm, and when all seven electric joints are extended, the length is 17.6 m.
A hole in the middle of the cancer can be seen from the traces of the collision with the space debris found during the Canadian Cancer 2 routine inspection on May 12. NASA and the Canadian Space Agency surveyed said that analysis is ongoing, but that the robot arm's performance is not affected and the damage is limited to a small fraction of the arm rods and heat-resistant blankets. As a result, the work that was planned in advance continues to be carried out.
Canada's space agency is calling the incident a "lucky strike" because it did not affect Canada Arm 2's performance despite the collision with space debris. Canada Arm 2 is a symbol of Canadian space development, and on the reverse side of the 5 Canadian dollar bill, a Canadian Arm 2 design is drawn along with Dexter, which consists of a Canadian astronaut and Canada Arm 2.
In the past, space debris has been a threat to astronauts staying on the ISS, and in 2016, microscopic space debris collided with the ISS observation module window, resulting in a 7mm wound. Related information can be found here.