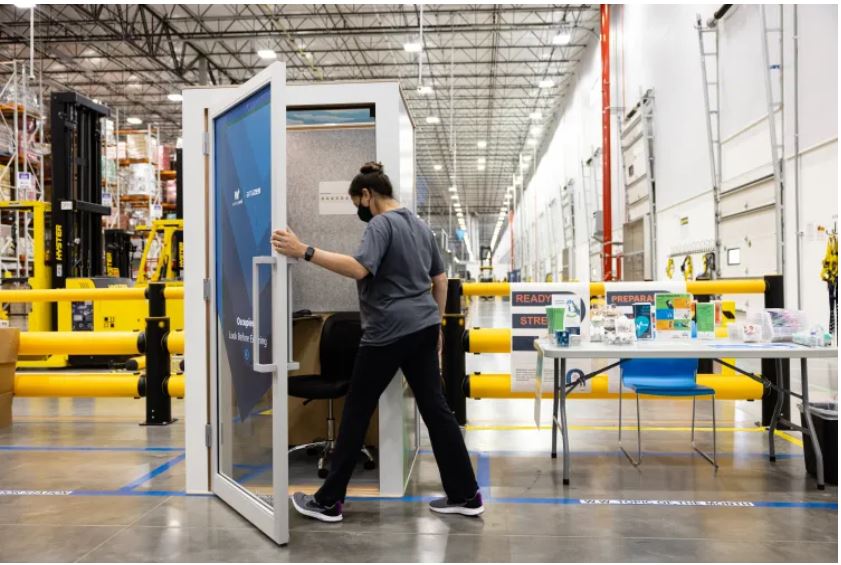 Amazon has announced that it is installing Amazen, a small room where workers in its warehouse can meditate. A PC is placed in a small room the size of a phone box or a temporary toilet, and it helps you to focus on your favorite guided meditation videos.
Sky illustrations are painted on the ceiling, houseplants and brochures are installed on the gray walls, and there is a mini fan. There is a PC on the desk, where various guided meditation videos are displayed. Choose your favorite video and follow the instructions to meditate.
Amazon creator Leyla Brown says she wanted to provide a place that was quiet and where employees could focus on their mind or well-being. Amazon is part of WorkingWell, a program that Amazon announced on May 17, 2021 (local time) to improve the working environment for its employees. Working well promises to provide support for physical and mental activity, exercise, and healthy eating for employees.
Of course, in response to this, workers are not robots with built-in rechargeable batteries, and employees are humans, so Amazon has had problems with drivers being too busy to urinate in plastic bottles, being monitored by car cameras, and forcing access to biometric data. Considering that, there is an opinion that installing Amazon is illogical by saying that this environmental improvement is what Amazon is demanding.
Amazon warehouse workers are also known for their short rest periods and harsh working conditions. Related information can be found here.