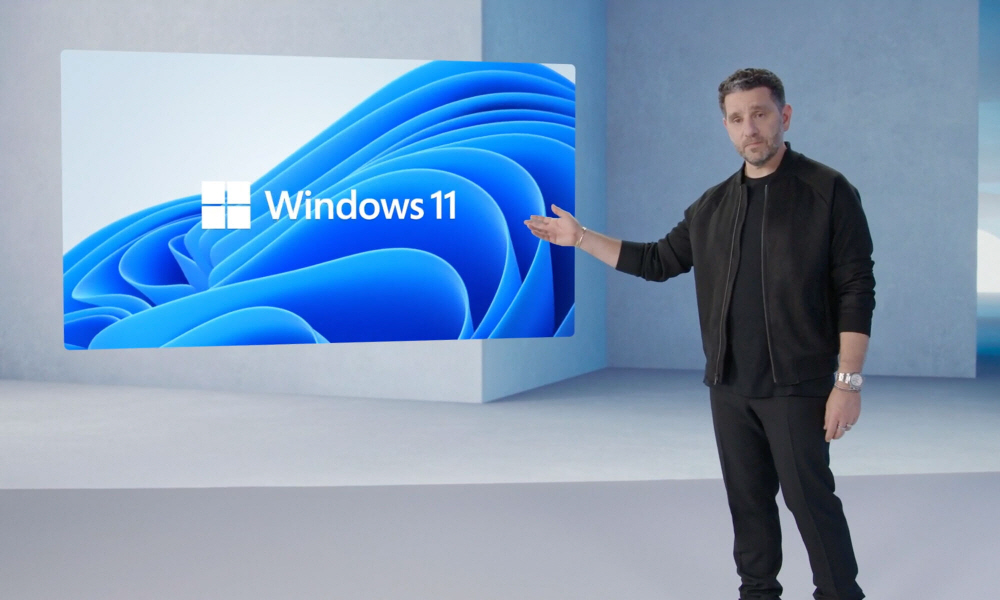 Microsoft held an online event (What's Next for Windows) and officially announced Windows 11, the next-generation Windows operating system.
Windows 11 is an operating system that has been refined in all areas such as the user interface, the App Store, and games while succeeding the existing Windows 10. What stands out in the UI is the new layout with the taskbar and Start menu in the center, which has been confirmed even in the leaked image. The entire Start screen and live tiles, which were badly criticized in Windows 8, have been replaced with their traditional positions and views in Windows 10, and have coexisted with the Start menu in an intermediate form. However, the Windows 11 Start menu has abandoned the checkerboard and has become more of a launcher with simple icons and recent documents organized.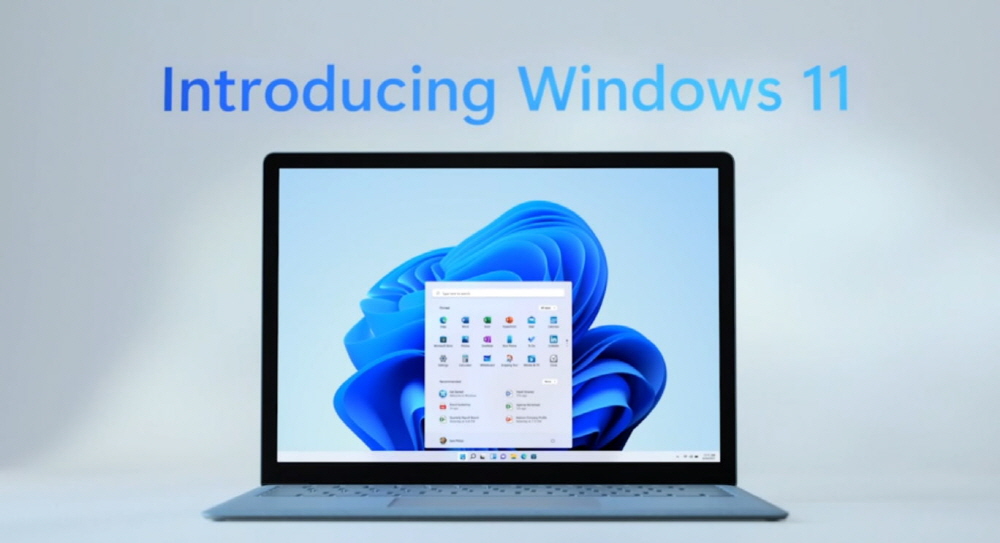 Existing start menu functions such as search bar and list view are also concisely arranged. Recently used files are linked with Microsoft 365 and cloud services, and documents that have been used for a while on other PCs, tablets, and smartphones are also suggested.
As the theme, it somehow reminds me of Windows Vista, such as transparent textures like opaque glass or UI elements with rounded corners. In the 2020s, when smooth animations and textures became a big selling point in mobile operating systems and Macs, even with the cheapest PC processors, power efficiency and graphic performance that cannot be compared with Vista days, Windows can also use UI intuition or animations. This reflects the policy of introducing transparency and ease of work more actively.
The independent tablet mode has been removed, and the layout itself remains the same even when the keyboard is separated from the 2in1 and tablet, and the icon spacing and touch target have been widened to make it easier to operate with touch. Multi-touch gestures such as application switches used on existing touchpads can be used anywhere on the screen, enabling operations similar to those of iPadOS.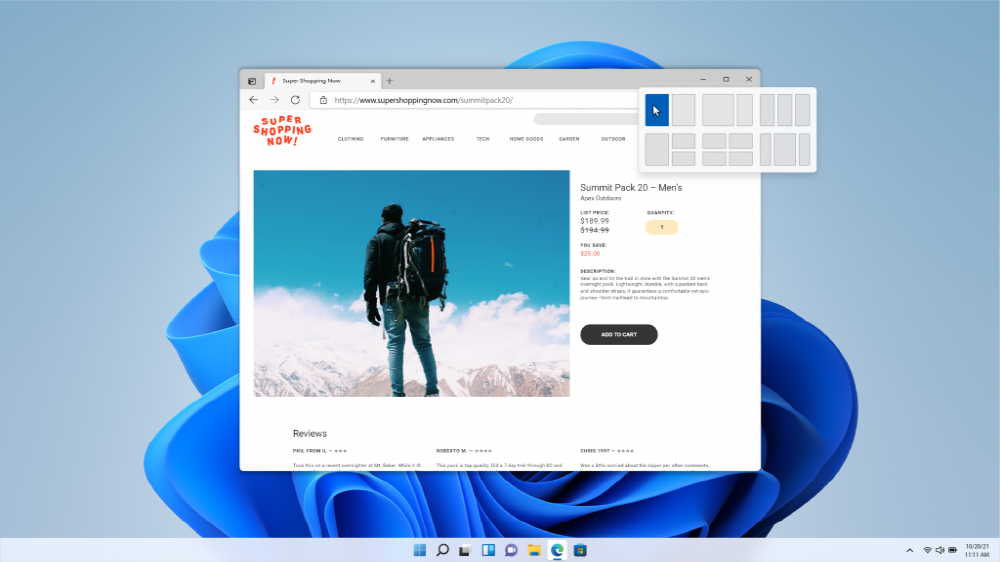 New features for productivity include Snap Layout, which makes it easy to place multiple windows in a template, which is also a Windows feature, and Snap Groups to remember multiple app combinations. In addition to the existing standard functions of left and right and quadrant snapping, you can quickly place windows in layouts such as left and right thirds, center wide, left half and right top and bottom.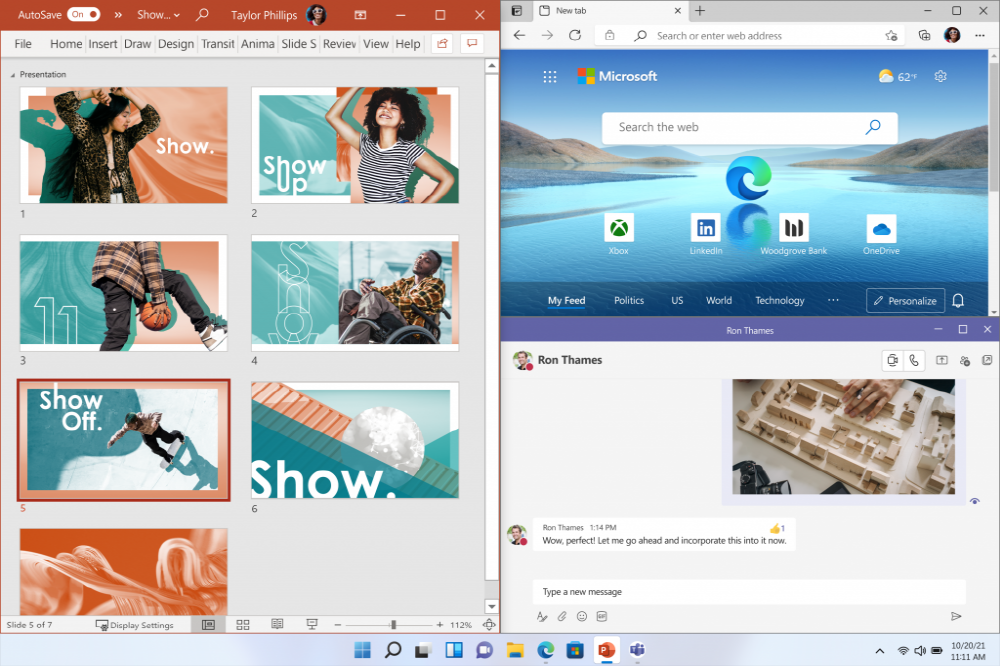 Even in a desktop environment where multiple applications are used side by side, such as ultra-wide and 4K large displays, or in a mobile environment where you do not want to create unnecessary white space, you can place them in a group without having to manually adjust the layout by dragging the corners of the window.
Multiple program layouts allow Windows to remember as a group, allowing multiple applications to completely change the working environment. For example, if you have an office app, a messaging app, and a browser running side by side at the same time in a workgroup and full screen, it can be recognized as a group and organized, minimized and switched. In addition, in a multi-monitor environment, if the external monitor that remembers the window layout is separated, there is no need to adjust the layout each time the window is stagnant or connected.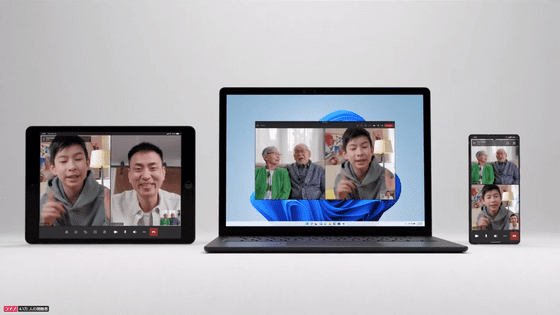 As an application, Teams is integrated into the operating system. You can start messaging and video calls right from your iPhone or Android smartphone on the other party's PC with just a few clicks.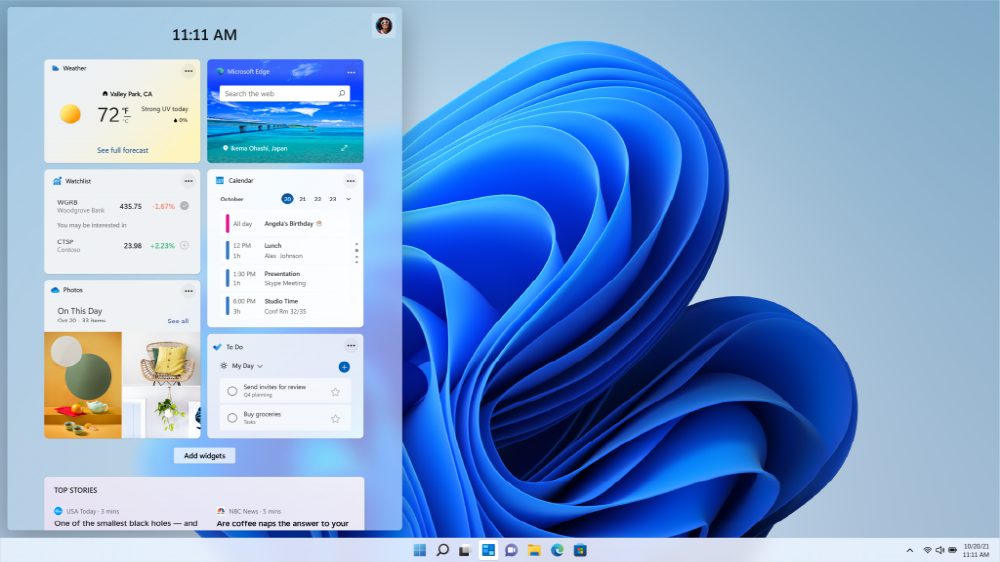 News and Interests introduced in Windows 10 have been removed from the taskbar and new Windows Widgets, which appear as translucent overlays on the left side of the screen, allow news and weather, tasks or appointments, and other app widget alarms.
Another new feature is a storage refresh. Not only store apps, but also existing Win32 apps are handled in the integrated store. You don't need to use Microsoft's payment system to line up your store, you can use your own pay or third-party commerce platform as is. You don't have to share revenue with Microsoft.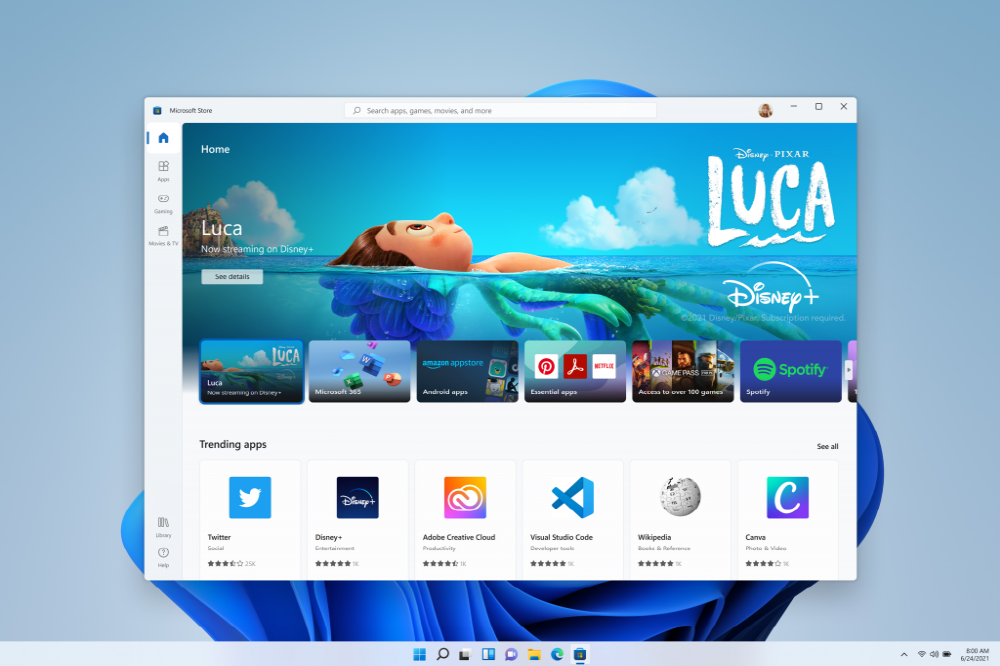 It supports Android applications and allows you to use Android applications like a smartphone through the Amazon App Store. makes it possible Intel Bridge is also available on AMD processors.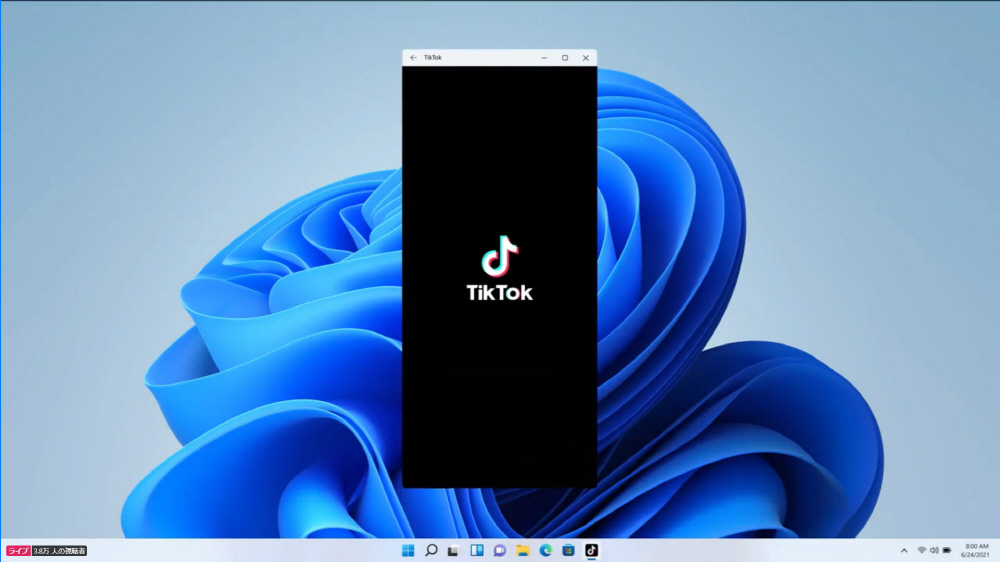 It also significantly strengthens the gaming function and improves the PC gaming environment, such as Auto HDR and DirectStorage API, which were first introduced in the Xbox Series X/S. Auto HDR is a function that uses machine learning to properly restore dynamic range even in old games that do not support HDR and to clearly see highlights in bright areas and gradations in dark areas. When your eyes become accustomed to HDR-compatible displays and games, it improves the appearance of unsupported games.
Direct storage is a function that can send data such as text directly from storage to GPU to reduce CPU overhead. It allows you to expect improved data transfer speed and game performance even on the same CPU, GPU, and SSD.
Next, the standard Xbox app. You get direct access to Xbox Game Pass, an unlimited subscription service. Xbox Game Pass Ultimate subscribers can enjoy gaming PC games and Xbox Series X/S exclusive games, including previous generation Xbox game compatibility issues, through cloud gaming xCloud, even on a laptop or tablet with a lower specification. Of course, cloud gaming is possible even in latitude 10 or a regular browser.
Windows 11 is a free upgrade for existing Windows 10 users. The official release is scheduled for the end of the year. Related information can be found here.
Meanwhile, Microsoft CEO Satya Nadella drew attention by saying in an interview that she welcomed Apple's original apps for Windows 11 in the direction of the Windows 11 goal.
In fact, Microsoft has announced that apps for Android will work as previously stated in Windows 11. According to Microsoft, it is possible to make Android apps downloaded from the Amazon App Store integrated with the Microsoft Store, its own app store, run by default in Windows 11.
CEO Nadella said in an interview that the Microsoft Store and Amazon App Store partnerships are open to all apps, not just Android apps. He said the company can have multiple markets and welcomes other markets that want to make a good one. It can be said that it is taking a completely different path from Apple by aiming to partner with all App Stores. Apple explains that the app is not available outside of its own App Store, and this is for user safety. However, in 2020, Epic Games and government agencies have pointed out and criticized Apple for monopolizing it.
On the other hand, when asked about the possibility of Apple software or services appearing in the Microsoft Store for Windows 11, CEO Nadella said that he wanted to do anything in Windows 11. He said he would welcome any delivery, saying he welcomed Apple's original apps for Windows 11.