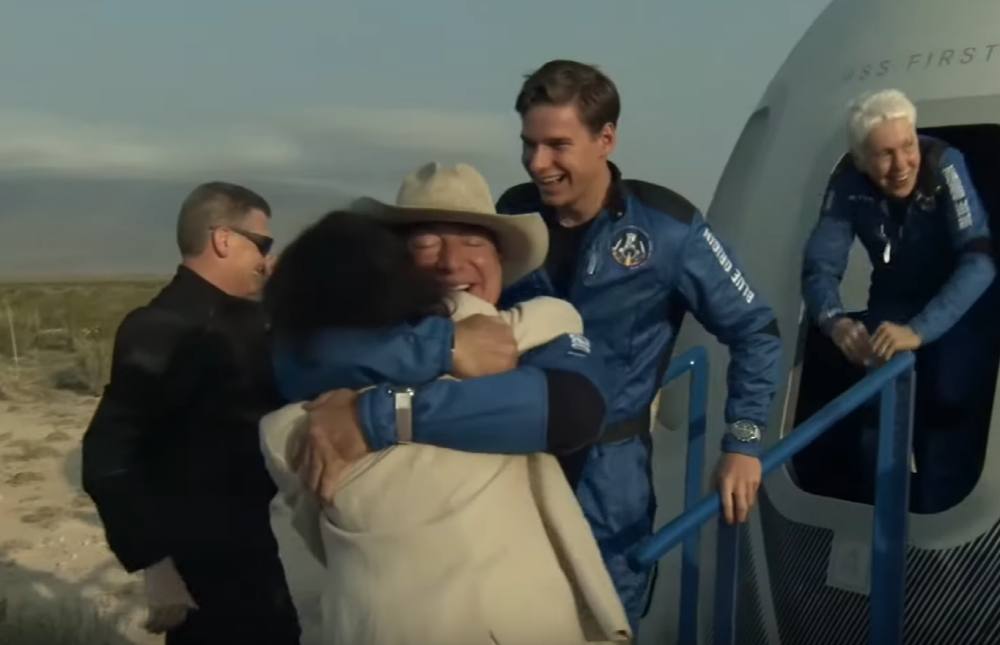 Amazon founder Jeff Bezos flew into space on July 20 at 10:12 pm in the New Shepard, developed by his company Blue Origin, and returned safely. After reaching an altitude of 100 km, Bezos and the crew experienced weightlessness in outer space.
In addition to Bezos, his brother Mark, 82-year-old Willy Funk, a former female astronaut program participant, and Oliver Damon, who last bought the vacant seat, were on board. They briefly enjoyed weightlessness in outer space, exceeding the 100 km Carmen line. Since the flight itself was all automatic, there were no pilots on board, and it took 11 minutes from launch to landing.
Blue Origin, as well as Virgin Galactic, aims to start commercial space travel soon. However, it has not yet reached the level of planning a full-fledged trip and has not sold tickets. In the case of SpaceX, led by Elon Musk, it has already had excellent track records, such as successfully transporting personnel to the International Space Station, but sending civilian crew members into space is scheduled to be carried out at the end of this year.
Both Virgin Galactic and Blue Origin are the same in that billionaires use their own money to build spaceships and go directly to space to sell their space travel business. However, from the perspective of Blue Origin, this launch is a milestone in which commercial service conversion is finally possible after several years of unmanned test flights.
More importantly, it shows that manned civilian spaceflight will become increasingly commonplace. These three companies form the top group of private space companies, and it is noteworthy how quickly the rest will grow the industry. For reference, Jeff Bezos has also expressed his desire to build a floating colony in outer space. Blue Origin says the first manned flight will be a big step towards its vision of enabling millions of people to live and work in space. Related information can be found here.
Meanwhile, before Bezos left for space travel, a signature campaign was launched that he wished he would not return to Earth, and more than 175,000 people said in favor.
I have a title that should not allow the return of Jeff Bezos last June districts in the online sign site (change.org) sign to one. The initiator of the campaign said that the billionaire's scramble for space travel is like bruising the faces of workers desperately trying to get food. Eliminating hunger, homelessness and poverty will cost money, but if you have the money to build a few mansions and buy a few yachts, it will be enough, he said. Billionaires and big corporations have to bear the cost of social support, Jeff Bezos explains, explaining why it's better to stay in space until you find compassion and humanity somewhere in the galaxy.
Of course, this hope (?) did not come true. Bezos, who got off the return capsule that fell in the Texas desert on the 20th, said it was the best day of his experience in space.