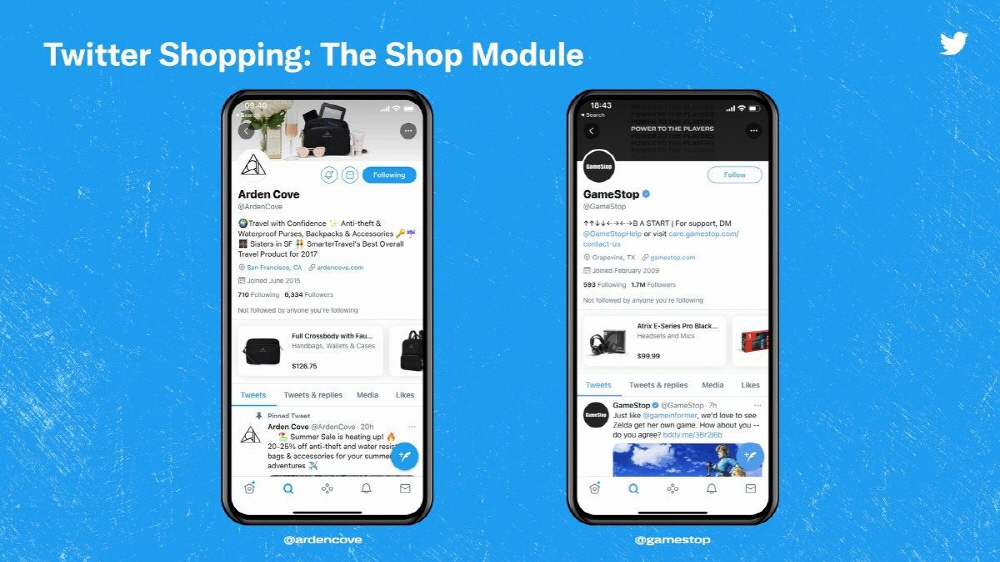 Twitter announced on July 28 (local time) that it is testing the Shop Module, which allows businesses or brands to sell products on Twitter. A shopping module will appear at the top of the profile screen and users will be able to purchase products without leaving Twitter.
SNS is being used as a platform to promote brands and products, and many corporate accounts are promoting products to users in one way or another. Recently, SNS has also started to focus on adding shopping functions, and Facebook announced Facebook Shops in May 2021, which enables businesses to create full-scale online shopping on Facebook.
Twitter also started testing the Shopping feature in 2014, but removed it and focused on other areas. However, in 2021, it was reported that the focus was again on the shopping function, and in March, it was testing a shopping card that puts a link button on the product page of a tweet. Then, on July 28, it was finally announced that it was testing a shopping module that could sell and purchase products directly on the Twitter platform.
The Shopping module is displayed at the top of the corporate or brand account profile screen. The shopping module allows users to access accounts of brands of interest and find products on Twitter. The products you like will have access to the purchase page where you can check product details directly on Twitter without having to switch apps. When you add a product to your shopping cart, you can purchase it right away. The shopping module allows users to seamlessly purchase products without leaving the app.
The Twitter Shopping module has already started trial operation, but it is said that English users of the Twitter iOS app in the United States can view the shopping module. Also, companies that can create shopping modules are limited to companies using the Professional Profile, which started trial operation in April 2021. A professional profile is a function for businesses that allows businesses and non-profit organizations to display business-related information such as address, phone number, and business hours on their profile.
According to Twitter, there are about 10 places that use the shopping module, including Game Stop. Twitter says it's in the early stages of testing, so it can't provide a way for interested companies to join the testing.
Twitter said it believes in the power of facilitating conversations about products, and said that in this pilot test, it will look at how users respond to products that respond well and appeal to emotions, such as their favorite sports team uniforms, or new skin care methods.
On Twitter Analyst Day in February, Twitter monetization chief Bruce Balk said he was starting to look for ways to better support commerce, saying he knew he was accessing Twitter to engage with brands and discuss their favorite products. also revealed Related information can be found here.