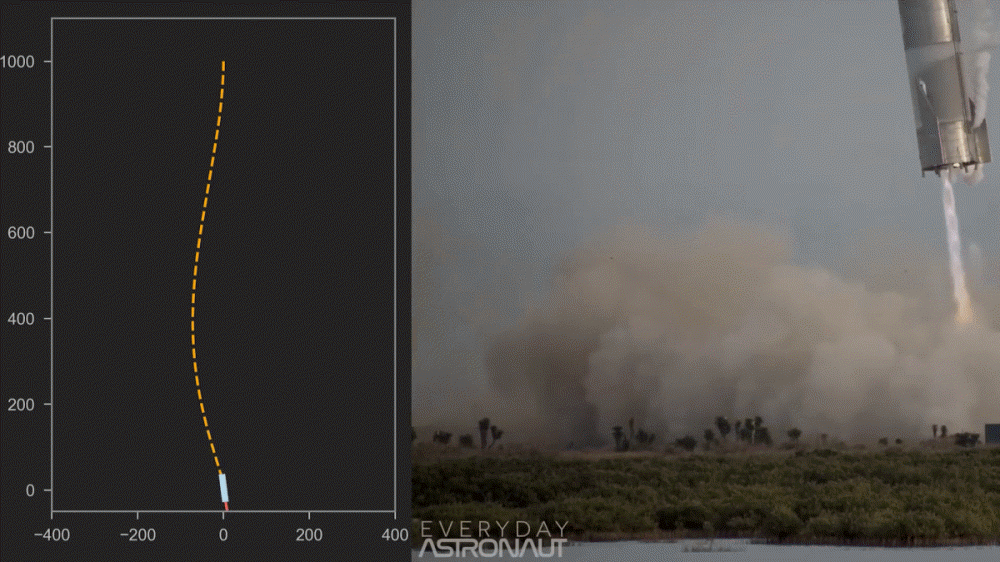 SpaceX, a private space company led by Elon Musk, is developing a new spacecraft, the Starship. Programmer Thomas Godden has developed software that reproduces the orbit of a starship when it lands.
The orbit reproducibility can be confirmed by viewing the animation of the Starship landing trajectory using this software. He explains the optimal trajectory before explaining the software code. Optimal means the best and ideal. For example, when moving to a star, the best orbit is to go in a straight line. It is intuitively understandable that going in a straight line is the optimal trajectory. If the software requests an orbit to a star, it can request an orbit called a straight line by searching for an orbit that will minimize the cost of distance.
However, in reality, there are various costs other than distance when requesting a rocket trajectory. For example, if there is an area that requires a lot of cost to pass when going straight from the starting point to the target point, software that uses only the distance as an index will need a lot of money to present a straight route as an optimal trajectory. .
Therefore, the developer was able to evaluate the required cost and always find a viable trajectory for less cost. Because of this, software was developed that can save the trajectory while avoiding the costly area. By developing software that evaluates the starship's course and control status every 0.04 seconds to derive the optimal starship trajectory, it succeeded in obtaining a trajectory almost identical to the actual starship's trajectory. Of course, in reality, more advanced skills are required. Related information can be found here.