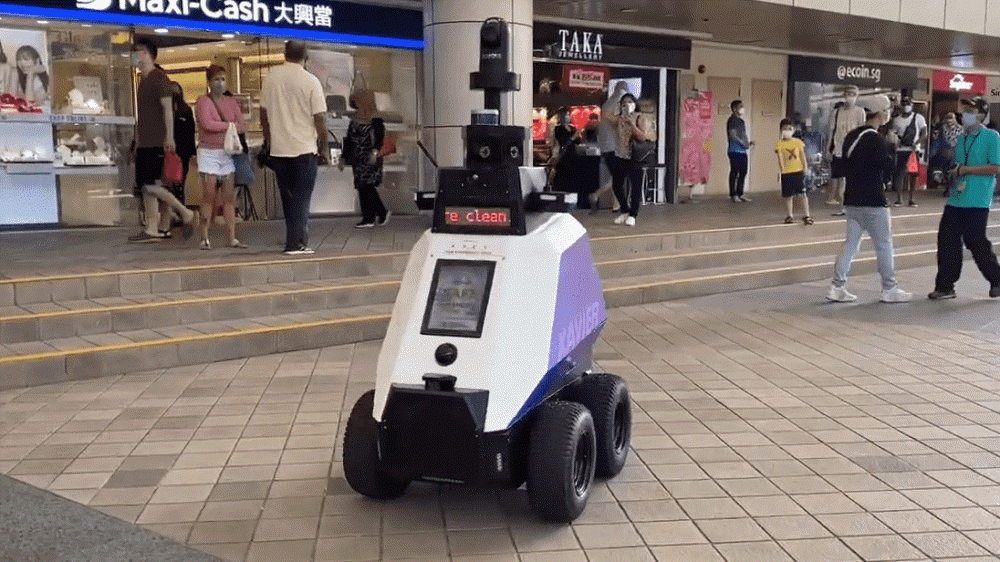 In Singapore, Xavier, a four-wheeled autonomous robot that detects smoking or illegal activity in non-smoking areas, and gives a voice warning while driving on the streets, has been trialled.
Xavier is a four-wheeled driving robot equipped with a 360-degree, night-capable camera, microphone, and speaker. Xavier drives along a pre-determined route, captures citizen actions on camera, and analyzes the video in an AI system. When a violation is detected, a warning text is displayed on the monitor in addition to playing a preset synthetic voice. In addition, a remote watcher speaks directly to the on-site citizen through a microphone and speaker.
Slowly moving down the street, if Xavier finds a person who has stopped biking in the middle of the road, it warns them to park in the parking lot via synthetic voice and monitor display. It also warns men who smoke in non-smoking areas not to smoke in prohibited areas such as underpasses. It also detects illegal street sales, bicycles on sidewalks, and gatherings of five or more people.
Xavier was jointly developed by HTX, a Singaporean institution, and the Singapore Institute of Science and Technology. In addition, the National Environment Agency, Land Transport Authority, and Singapore Food Authority Housing Committee are participating in the project. The purpose of Xavier is to reduce the burden of patrolling at sites requiring large numbers of personnel, and according to authorities, Xavier is used for education and deterrence, not law enforcement. Related information can be found here.