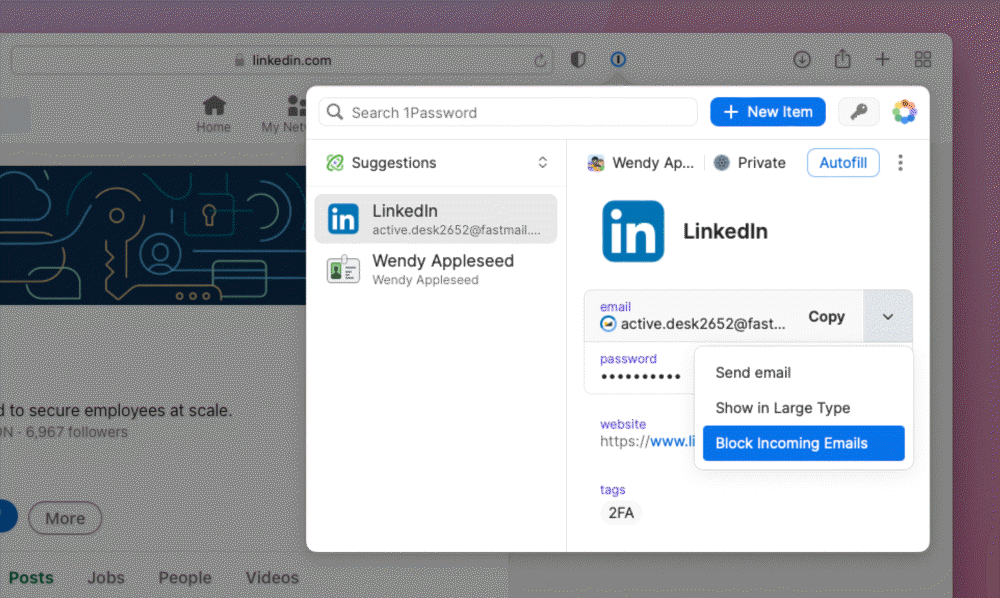 On September 28 (local time), password management service 1Password announced Masked Email, a new feature that automatically generates and registers a random email address when creating an account.
A password management service that can be used in PC browser extensions or Android and iOS apps. 1Password automatically generates a unique email address on the spot and collaborates with Fastmail, an email service, to create a masked email, a new function used for account registration, etc. what was announced.
Masked email allows you to generate random email addresses just like automatically generating passwords. It's time to enter your email address when creating various service accounts where this feature comes in handy. If you select the e-mail address field, Fast Mail is automatically generated by the masked e-mail and recorded in the 1Password account.
1Password automatically generates and records passwords, so users do not need to remember their email addresses and passwords. From the service where you created the account, emails are automatically sent to the email address you use. Because each account is assigned one email address, it's easy to see which services are leaking email addresses or selling them to spammers.
When unwanted spam emails start to arrive at the automatically generated email address, you can block spam by simply selecting the email address and stopping receiving emails. There is no risk of leaking the real email address you are using.
Masked e-mail requires both 1Password and a Fastmail account. Both are paid services, but account openers say that the first year of both services is 25% off. Related information can be found here.