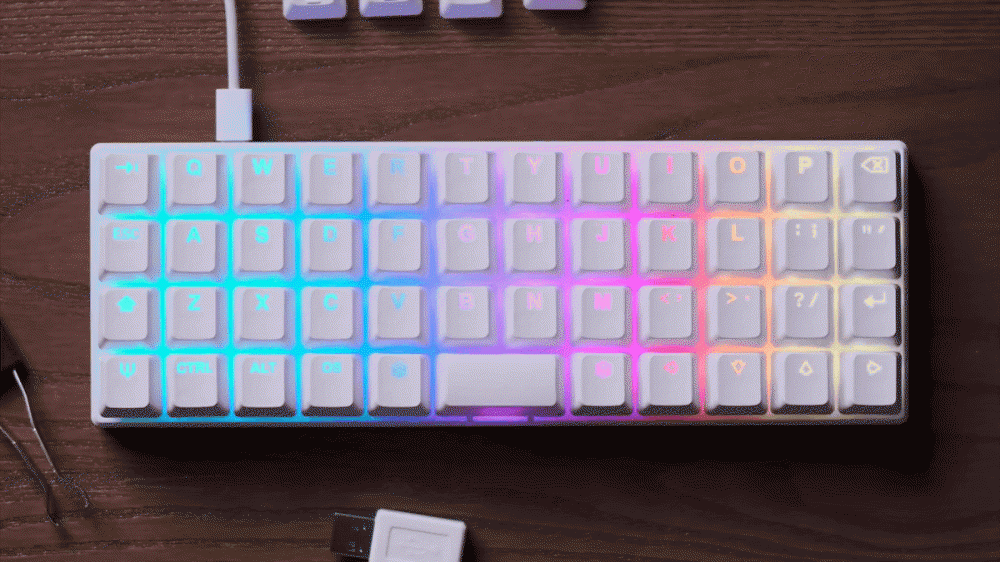 The Planck EZ is a compact keyboard sold by ZSA Technology Labs, which specializes in ergonomic keyboards. Planck Easy can change key assignments, handle mouse control, macro storage, and more, switch to select Cherry MX and Kailh Speed, and add LEDs like a gaming device.
The number of Planck Easy keys is 47, and all keys such as Enter and Space are 40% the same size. The size is 234×82×28mm, and the connection interface is USB. The keyboard uses only USB Type-C.
The orthogonal array keys lined up in a grid are all mechanically framed and have a floating design that makes the keys appear to float on the body. There is no number or symbol key, and it is a structure that can be entered by pressing the space bar, the left and right (LOWER, RAISE) special keys and the top row key at the same time. Simultaneous push with the left (LOWER) of the keyboard is treated as a symbol key, and a simultaneous push with the right (RAISE) of the keyboard is treated as a number key.
The key switch can be selected from 8 types of Cherry MX, 5 types of Kyle, and 4 types of Kyle Box. Also, electronic sound can be played with the built-in buzzer. The LED at the bottom of the switch can also be colored like a game device. In addition, it supports macro functions that change key switches without soldering, substitute arbitrary keys, reproduce key input and mouse control, and input multiple keys with one key input. It costs $245 and comes with a two-year warranty. Related information can be found here.