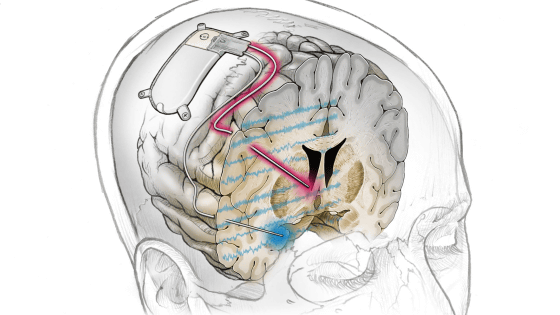 There are many studies on depression, and there are studies that show that cold showers are effective in improving depression and that living in a city increases the risk of depression. In the midst of this, a research team at the University of California, San Francisco, has developed a new treatment for depression called insertion of an electrical stimulation device into the brain.
The technology developed by the research team to suppress the activity of a specific region by giving electrical stimulation to the brain is an improvement of the electrical stimulation device used in DBS (Deep Brain Stimulation). Even before this study, research on DBS has been conducted extensively, and the US Food and Drug Administration FDA has approved the treatment of DBS-induced Parkinson's disease and obsessive-compulsive disorder. However, according to the research team, the existing DBS has limited therapeutic effects on depression because only a certain electrical stimulation is always given to one part of the brain.
To solve this problem, the research team improved the electrical stimulation device used in DBS to recognize brain activity patterns, and when depression symptoms develop in different brain regions for each patient, electrical stimulation is applied when a specific brain activity pattern is recognized. realized
The research team said that it took 4 to 8 weeks for the existing depression treatment to take effect, but the newly developed device immediately relieved the symptoms, and the effect continued for more than 15 months after the device was implanted. In addition, it is necessary to check how the effect of the developed device works on other patients, and to check whether the brain circuits of each patient change over time as treatment continues, he added, adding that he plans to continue testing on patients with depression in the future. Related information can be found here.