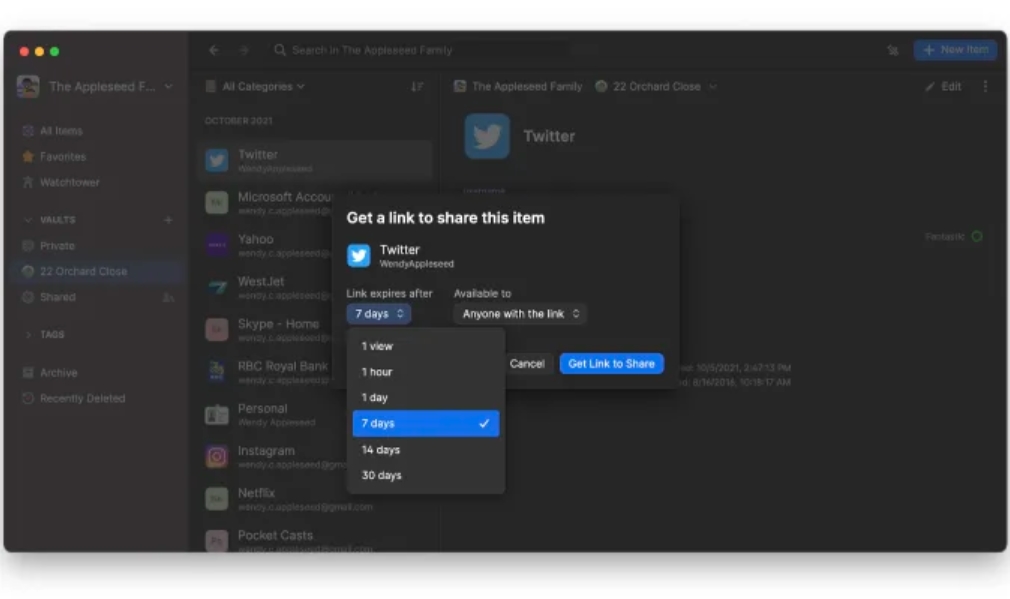 1Password announced Psst! (Password Secure Sharing Tool), a new function that allows you to securely share registered information with anyone, including those who do not have an account.
For example, there are many times when you want to share your password with family and friends, for example, you want to give your Wi-Fi password to a friend who is visiting your house, or you want to share your Netflix password with your children. You can do it by email or chat each time, but the data will remain, which naturally increases your security risk.
In contrast, Psst! does not transmit data directly, but shares a link with a set validity period. The receiving end is a structure that can display data such as shared accounts and passwords when accessed from a browser. You can also limit who has access and share with you, in which case your email address is used to verify your identity.
Also, what is shared is not the real-time data stored in 1Password, but a snapshot created when sharing is performed. Therefore, even if the password is changed after sharing, it is not reflected. The validity period is 7 days by default, but you can specify 1 hour, 1 day, 14 days, or 30 days. In addition, if the receiving party uses 1 password, the shared data can be stored in its own 1 password.
According to the 1Password survey, many companies reuse credentials or API tokens, and 36% share information in insecure ways such as email, chat, or text. It is also reported that 76% of family members share passwords. Therefore, secure sharing methods such as passwords were said to be one of the most requested functions.
Meanwhile, this Psst! In line with the announcement, it is announcing that the number of business users will exceed 100,000 and the number of employees will increase to 500. Related information can be found here.