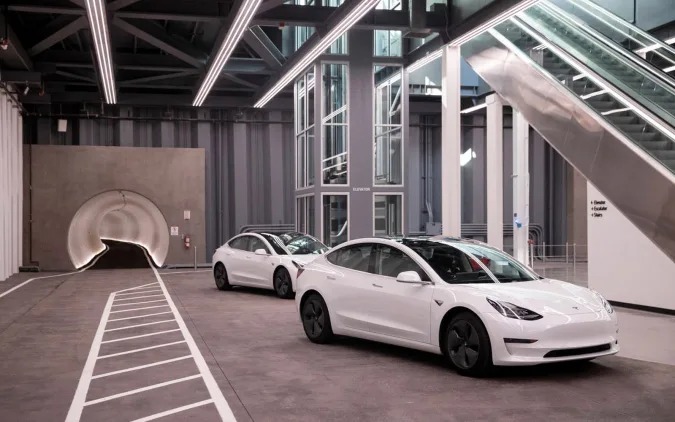 Clark County, Nevada, where Las Vegas is located, has approved the Vegas Loop, an underground transportation system for The Borring Company (TBC), led by Elon Musk. When the total length of 47 km is completed, it will be connected to 51 stations in the vicinity including many hotels in Las Vegas and tourist attractions.
Steve Davis, president of TBC, said he plans to build the Vegas Loop in phases and will open a route that will become drivable each time an individual station is completed. First, 5-10 stations will be built within 6 months from the start of the construction work, and 15-20 stations will be added every year after that, with the goal of opening all lines in 3 years.
The cost of building the tunnel will also be borne by TBC, as previously mentioned by Elon Musk. In the plan, TBC is showing the idea of distributing the cost burden to other companies such as hotels and casinos near the station.
Of course, there are also questions about the efficiency of personnel transport for the Vegas Loop. In a general subway, hundreds of people can move at once in one formation, but the roof system that moves the tunnel with a Tesla car can only ride up to four people at present.
But TBC is arguing that it will be able to transport 57,000 people per hour. Key argues that point-to-point transportation increases efficiency because passengers do not have to stop at every station on their way to their destination.
If you think on a train or subway that you don't need to stop at a station to build a tunnel connecting the stations, the station may be meaningless if all other guests pass through except for the destination without stopping at the station to get on or off. The vehicle travels directly to the station targeted by all passengers.
It's hard to say, however, that the first loop system that TBC built on LVCC is the future of transportation so far envisioned by Elon Musk. This is a cliché in which a Tesla vehicle with a shared driver carefully runs through the tunnel.
In addition, after the opening of the LVCC loop, TBC announced a plan to double the diameter of the tunnel to investors, and there were rumors that it would be used as a tunnel for cargo transportation and logistics. Related information can be found here.