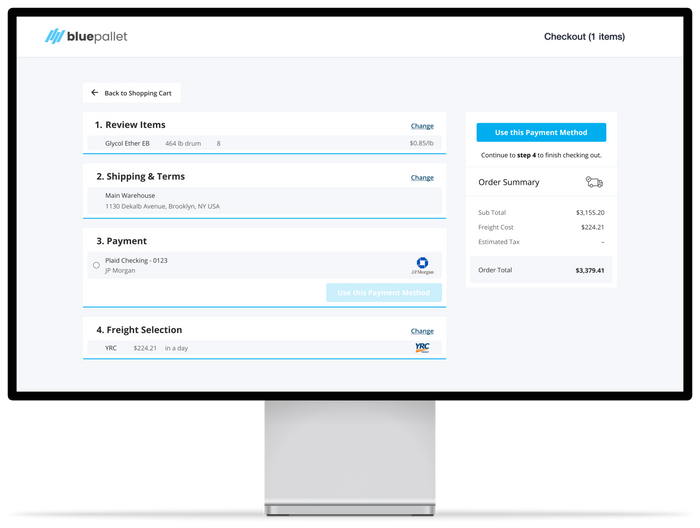 BluePallet is an online marketplace startup that connects the manufacturing and chemical industries. The company announced on October 19 (local time) that it had become the first officially operated industrial commerce platform on Alibaba.com. This will expose Blue Palette to millions of business buyers around the world, sourcing from e-commerce sites by a network of chemical manufacturers and distributors.
At the same time, Blue Palette raised $5 million in a procurement round led by Vinmar Ventures. As a result, the cumulative funding amount was $10 million.
Blue Palette is a company that was created in 2020 by the merger of EchoSystem, a chemical marketplace in the third year of its establishment, and Veloci, a fintech company. The goal of the establishment of Blue Palette is to apply the market network model to modernize a giant industrial transaction that hitherto lagged behind in a technical sense.
BluePalette strictly adheres to regulatory compliance and responsible distribution requirements while its own e-commerce model provides broad market access for industrial buyers and sellers. It also claims that buyers and sellers have more control over the supply chain.
Three products are provided on the Blue Palette site. TradeHub is a licensed marketplace where users can find and post products using network tools. TradePass is an in-house business validation technology aimed at ensuring network integrity by continuously checking data points for massive operational and commercial financial risks. In addition, TradeCart is a unique checkout system that integrates payment processing, authentication and logistics.
Blue Palette announced the relocation of its headquarters from Chicago to Austin, Texas. The reason is its proximity to Houston, a thriving chemical industry, and access to an environment brimming with dynamic technology and entrepreneurship.
The global chemical market is the largest region in Asia Pacific, accounting for 49% of the $3.34 trillion market in 2020. North America is also the second largest regional market, accounting for 17%. Blue Palette sees room for growth by partnering with NACD and providing access to 250 NACD member companies and 750,000 customers. Related information can be found here.