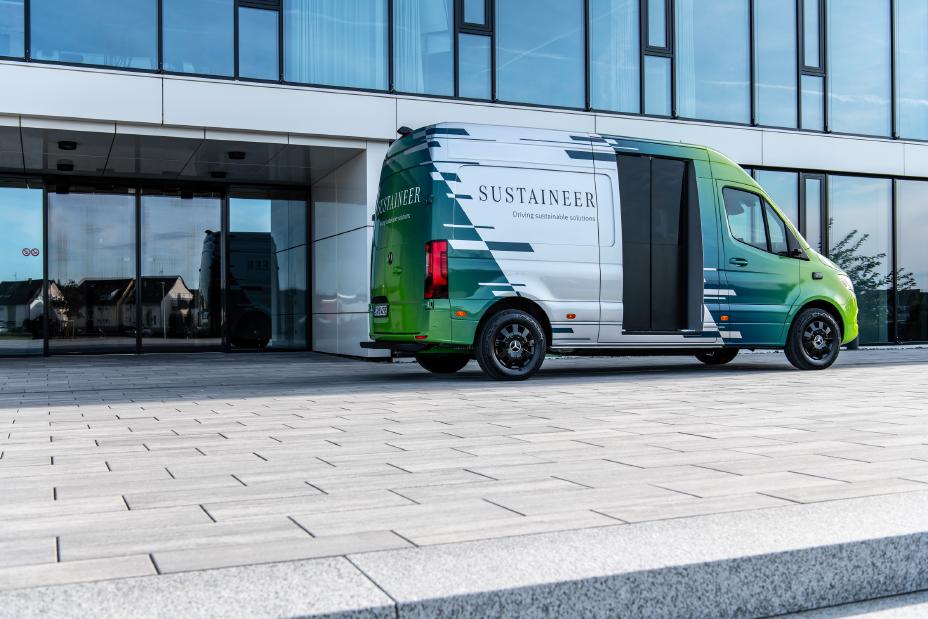 Some large corporations, such as Apple, are announcing related coping achievements and related technologies as a promotional activity in line with COP26 of the 26th International Conference on Climate Change. Among them, Mercedes-Benz is announcing a concept delivery van in which cars, which are considered one of the causes of air pollution, clean the air in the opposite way.
Mercedes-Benz's delivery van concept car, the Sustainer, is an electric vehicle that replaces the gasoline engine of a typical delivery van with a motor. .
Specifically, it is equipped with advanced particulate filters on the front and body screens to collect particle-level dust generated from tire, road surface, and brake wear and purify the environment around the road while running.
In addition, it is possible to not only extend the cruising distance by generating energy by mounting a battery power supply and solar panel, but also to charge the battery when it is stopped. The installation of solar cells in electric vehicles is not particularly surprising, but Mercedes-Benz intends to make full use of this capability by making the power produced by solar cells available at all times and supplying it to laptops, etc.
Sustainer also employs an energy-saving heating system that locally warms the parts that are in close contact with the body by suppressing the heating in the vehicle, which consumes electricity, further reducing the environmental burden by using natural or recycled materials.
Meanwhile, noise is also improved by electrification, eco-friendly tires, and adoption of low-noise electric slide doors. Although automatic driving is not installed, as a driving support function, a hole in the road surface or other risk factors are detected early by monitoring the road condition with an image sensor, analyzed through its own cloud, and information is provided to road management authorities or traffic news providers to mount
Mercedes-Benz did not say whether it plans to convert the Substennier into a production model, but says all vans are being developed on the premise of mass production. It may not sell very well in places where substenniers are available for general use, but if they are introduced into postal or courier delivery vehicles, it can make a good change in the atmospheric environment around the road.
Mercedes-Benz is preparing for environment-related technologies in various ways, such as planning to provide repair services to EV batteries in a sustainable way from 2022. Related information can be found here.