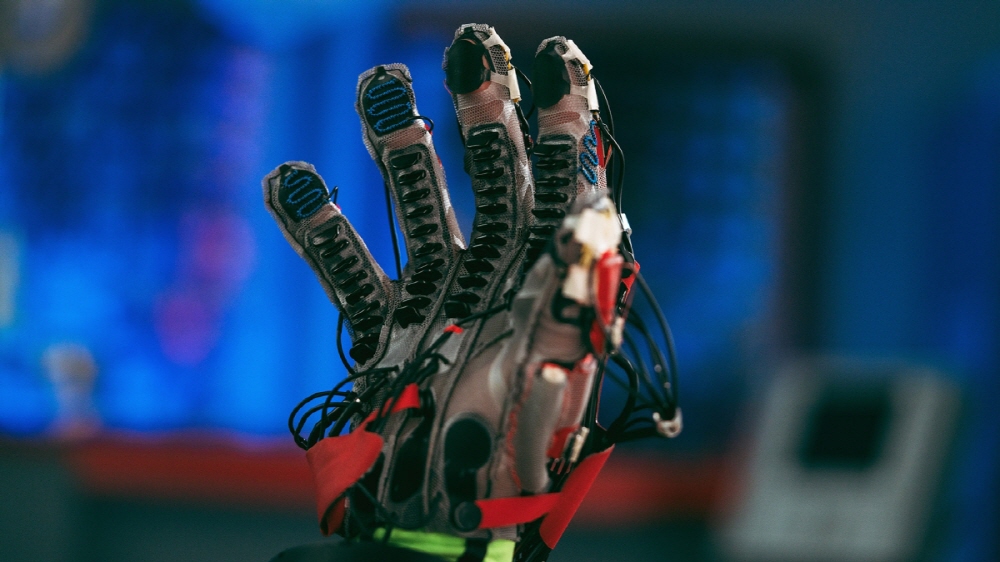 Meta, whose name was changed from Facebook, revealed glove information that can obtain tactile sense in virtual and augmented reality developed by Reality Labs.
A number of cables and projections are attached to the tactile experience type glove developed by Reality Lab. The structure that displays the user's hands and feet with virtual and augmented reality already exists, of course, and can push, pull, or grab objects. However, unlike reality, there is no sense of folding. It is the tactile experience type gloves that can overcome this.
For example, holding hands in real life can also make fists in virtual space. It is possible to recreate the shape by installing the sensor to the tip of the finger and capturing it. If you use this glove, you can feel the shape when you hold a stick-like thing in your hand in a virtual space. Handshakes in virtual space are similar to handshakes in real life. Likewise, even when playing games like Jenga, you can feel the lightness with your fingertips that you can take it off.
According to the meta, development started 7 years ago. Research director Sean Keller started it alone, but now it has become a division of hundreds of experts. What Keller was aiming for is a soft, lightweight tactile glove that responds to interactions with virtual and augmented reality. Factors necessary for commercial success include being stylish and pleasant in appearance, affordable, durable and customizable. In addition, it is required to pair with a virtual reality headset to realize an immersive experience in the metaverse, and ultimately to function in augmented reality glasses.
Hundreds of actuators are required to notify the touch of a virtual object to provide a sense of touch, but existing mechanical actuators generate heat and it is difficult to comfortably wear gloves all day long. Also, there was a problem that the original actuator was large, rigid, expensive, and consumed a lot of power. For this reason, the research team focused on pneumatic actuators and electroactive actuators to build high-speed microfluidic processors for actuator control.
Even if there is an actuator, hand tracking technology is required to properly send virtual object information to the computer, so software that acquires the state and interaction of the virtual world and renders the corresponding sense to the actuator was also developed. In addition, detailed experiments are repeated and adjusted so that the reaction obtained from the actuator is the same as when touching a real material. It is said that the materials and manufacturing technology were newly created for comfortable gloves.
Mehta states that while the technology for providing reliable tactile experiences in virtual and augmented reality does not yet exist, progress will continue to make tactile gloves a reality. Related information can be found here.