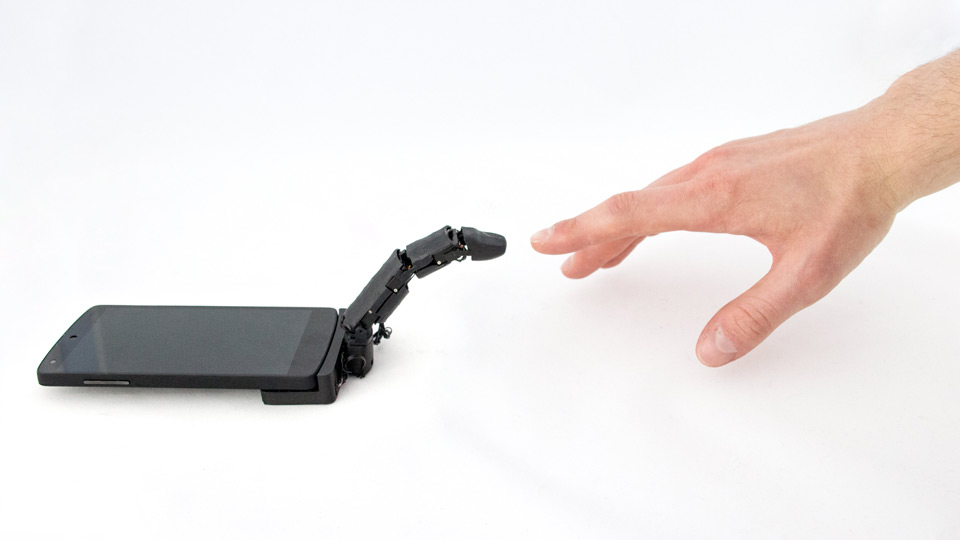 Marc Teyssier, a researcher in human computer interaction (HCI), announced Mobilimb, a finger robot that is easily removable on smartphones and tablets.
Movi Lim's concept is to overcome the limitations of mobile devices by using human augmentation method. It is an attempt to make smartphones convenient with articulated robots moving like fingers.
For example, when an alarm comes on your smartphone, you can simply tap your desk with your finger to move your fingers to the left or right and switch to Manner mode using the toggle switch. When watching a video, you can use your robot arm as a smartphone stand or use it as a handle. You can also use smart phones to touch or touch them, or you can set up a pen on your finger to write shapes and text on the screen.
The developer has developed an Android and Unity API to move the robot's fingers on the screen so that they can move on the same thing, move the robot's fingers, and move on the screen and move the same. Finger movements can also be recorded in animation for later playback. Robot fingers are only one thing, but they can serve as teaching materials for students who want to learn robots. For more information, please click here .