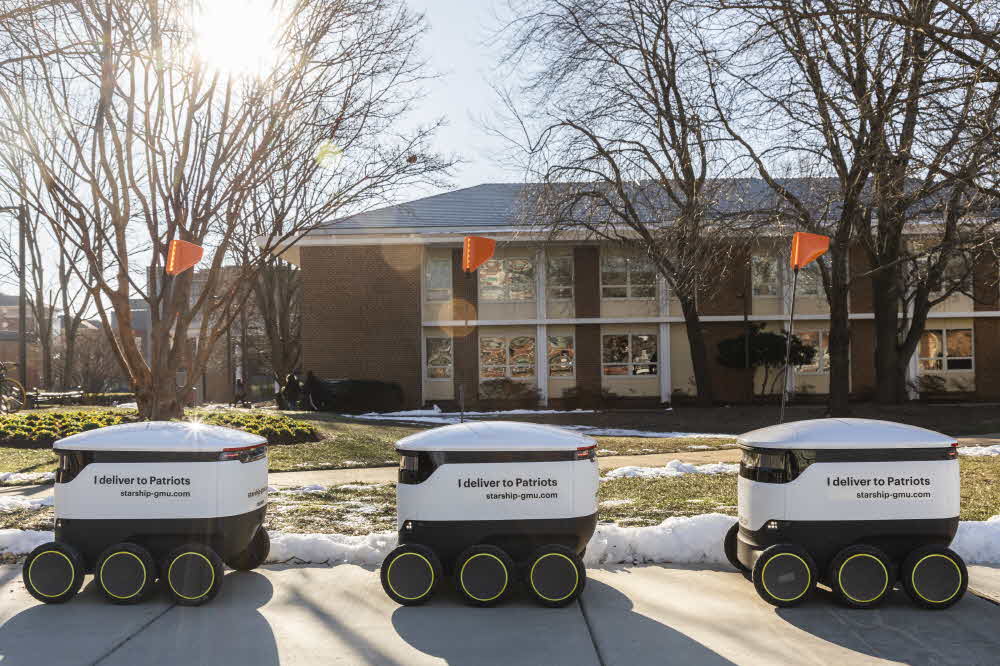 George Mason University, Virginia, USA, has begun shipping food using autonomous mobile robots. If you order pizza, donuts, Starbucks, etc., your unmanned robot will deliver within 15 minutes on average everywhere in the university campus.
This service was used by the Starship Technologies robot. This unmanned delivery robot was designed with full-scale commercialization services such as low-cost computers and sensors with relatively low processing power, while lowering maintenance costs. There are 10 cameras, GPS, inertial sensor, etc. for autonomous driving. Riders that are expensive sensors mounted on autonomous vehicles are not used.
The maximum speed is about 6 km / h, the body weight is 10 kg, the load capacity is 3 pizzas, a few salads and drinks. It was developed for the purpose of delivering the last one mile from the store or the shipping base to the consumer, and it was assumed that the vehicle would run on the sidewalk instead of the road.
The university campus has been able to order food shipments from Starship Delivery on January 22 (local time). In addition to Starbucks, we support Blaze Pizza, Dunkin 'Donuts, Second – Stop Food, etc. If you order more than $ 2, you will receive an average of 15 minutes within 30 minutes anywhere on campus. Of course not inside the building. I can not climb the stairs, so basically it only ships to the front door.
This unmanned robot can be remotely controlled by the operator or can talk to the microphone and speaker. For more information, please click here .