The wearable market grew by more than 30% in the fourth quarter of last year. According to market researcher IDC, shipments of wearable devices reached a record high of 59.3 million in the fourth quarter of last year. This is a 31.4% increase from the same period last year.
In 2018, 172.2 million units were supplied, showing a 27.5 percent year-on-year growth. Given that the growth rate in 2017 was 10.3%, it has more than doubled. In February, when NPD, the other research organization, announced the results of its smart watch sales survey in the US, smart watch sales in the US increased by 61% from the previous year, and one out of six US adults owned Smart Watch Also. Of course, the IDC survey looked at all of the wearable devices, including smartphones, earphones and headsets that support fitness tracers and voice secretaries.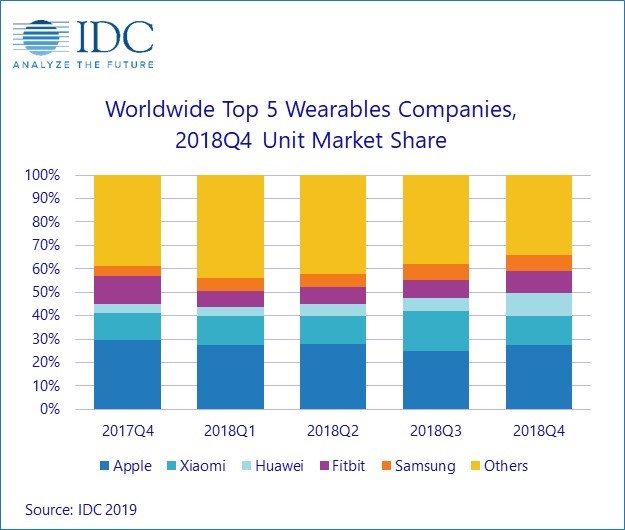 According to IDC, smartphone shipments in the fourth quarter of last year accounted for 34.3% of all wearable handset shipments. Shaomi and Pitbitt have 30% of their bracelet-style fitness trackers. In addition, 21.9% of the devices installed in the ear, such as air pods and pixel buds.
By company, Apple was No. 1 with 16.2 million units shipped. Of these, Apple watch accounts for 10.4 million. The latest series 4 is on the rise, and many medical institutions are using it, and IDC predicts the trend will continue.
The second place after Apple is Xiaomi. China, as well as Europe and other Asian countries. Xiao Mi's fitness band, the US Band 3, accounted for more than 30 percent of all fitness bands shipped in the fourth quarter last year.
Third place was Huawei, showing explosive growth of 248.5% compared to the same period of the previous year. Huawei Watch GT and Gridbird 2 pro have been popular. As the smartphone market grew 43% YoY, Huawei has been dominated by the US market, but overall it has not been significantly affected. For more information, please click here .