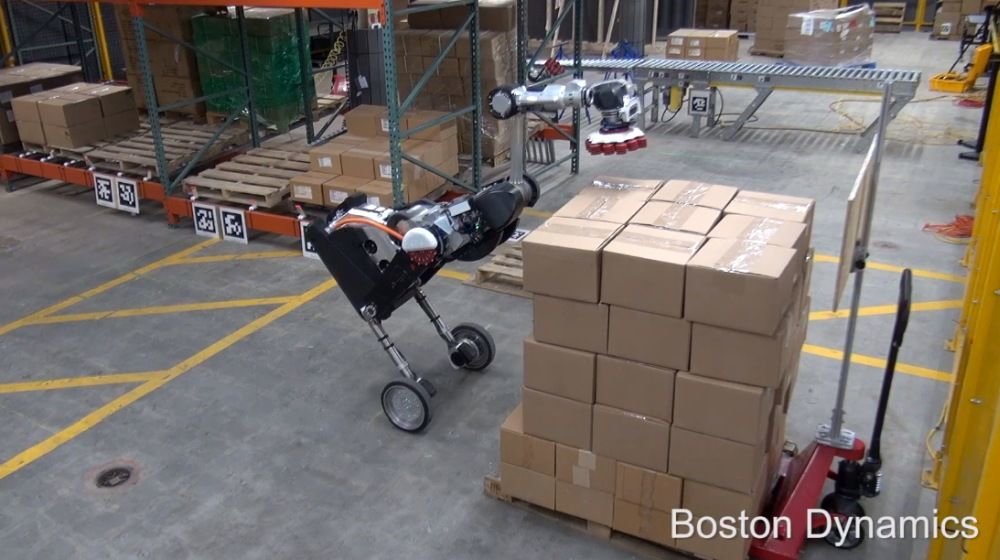 Boston Dynamics, a venture company based in the Softbank Group, has unveiled a new image of a robot handle that is being developed for wheel travel. It shows the inhalation type robot arm and carrying the corrugated box from the warehouse shelf to the shelf.
The steering wheel looks like a person at first glance, but stands up with a hind legs and looks like a horse. I could have wondered what this meant at the time of the first public release, but the use of the in-video handle revealed clearly.
According to Boston Dynamics, the new handle covers a 5kg box. By itself, it can lift up to 15kg. The robot is able to recognize the surrounding situation, of course, while maintaining the balance necessary for two-wheel driving while balancing with heavy objects. It is likely to be used in warehouse business by video, but general warehouse work is carried out by a forklift at a time rather than stacking boxes one by one outside the shelf. You may also need to be responsive to wiring or obstacles located on the bottom of the warehouse where the handles run.
Rather, a robot exoskeleton or a power suit that makes it possible to lift a heavy object lightly may be more suitable in such a working environment. But if you are aiming at simplification, the hand-like robots may become more evolved.