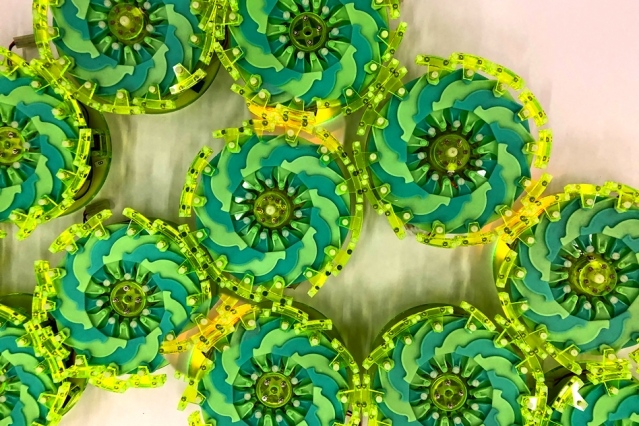 MIT, Columbia University, Cornell University, and Harvard University have teamed up to create a particle robot that moves and carries objects inspired by microscopic cells.
The robot looks like a petal like a group, but it moves in a form that pushes and pulls each other by the force of opening and closing the magnet on the edge of the petal. The robot moves toward the light through the optical sensor. Each unit senses the light intensity and delivers the measurement to the entire group. Each robot receives a signal to gather power to direct the light. When an object is collected, it moves organically. Act like gathering like cells.
Particle robots can act like a biological cell for a group of robots, even if one or two are damaged. Theoretically, if you have a group of 10,000, 20% of them can fail and move. Of course, this will halve your movement speed.
For reference, the disk shaped like a petal used in this robot is called a FLIGHT RING. Throw it like a Frisbee and open like a ring. This lower body included batteries, motors, optical sensors, microcontrollers, and communication modules.
The research team plans to miniaturize and connect millions of them in the future. Maybe someday you will be moving things like a wave. An efficient robot that imitates the living body of a sophisticated creature may be born. For more information, please click here .