Although Huawei is excluded from the US market, it seems that smartphone shipments have little impact.
According to market researcher IDC, worldwide smartphone shipments in Q1 2019, Huawei beat Apple in second place in market share. Global smartphone shipments in the first quarter were 318.8 million units, down 6.6% from a year earlier. It has decreased for six consecutive quarters. In all of the top four manufacturers, Huawei increased sharply to 50.3% compared to the same quarter of the previous year.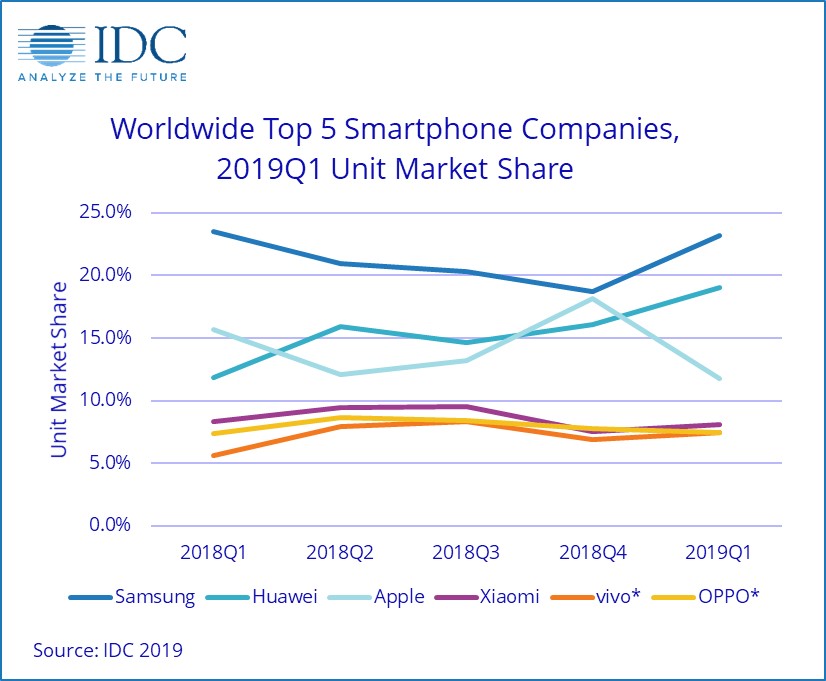 In contrast, Apple's 1Q shipments fell 30.2% year-on-year, indicating a significant slowdown. As a result, Huawei's market share was second only to Samsung Electronics. Apple fell to third place. Apple released the XS and XR in the fourth quarter of 2018, but Apple came back in place after the first quarter.
IDC analyzed Huawei's strengths in covering a wide range of customers from low-end to high-end. In contrast, Apple has campaigned in many markets. China has cut prices, but it has little effect on stimulating replacement demand. In 2020, Huawei may face greater difficulties as the 5G smartphone or folded phone comes out.
For reference, in 2018, Samsung Electronics ranked first with 20.8%, Apple second with 14.9%, and Huawei third with 14.7%. Huawei has set its goal of becoming the No. 1 market share leader over Samsung Electronics a few years ago, but the current market share is expected to reach its second annual share this year. In addition, the number one market share is not a target, but reality is improving. For more information, please click here .