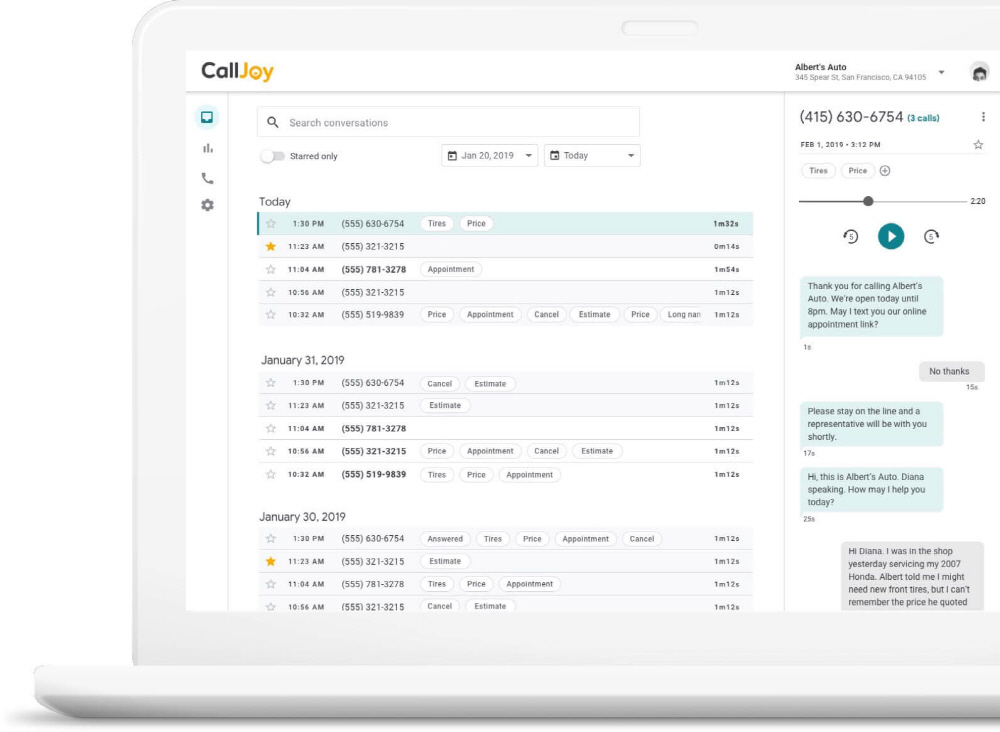 CallJoy is a service that is opposite to Duplex, where artificial intelligence makes a phone call to a restaurant on behalf of a human being announced by Google in October 2018. It is a function that artificial intelligence responds to a call that is called on behalf of a person.
Services that provide information through automated voice answering when a call comes in, or on behalf of people as needed, are already being introduced into large enterprises. However, there was a problem that it was difficult to introduce small shops and SMEs due to cost. Call Joe is a service to solve these problems.
Call Joe also combats spam and blocks unnecessary spam. Moreover, it responds to the customer's call with a custom message. It provides basic business information such as business hours, and when a customer makes a phone reservation, it sends an SMS containing the URL of the customer's understanding.
However, if the customer is making a landline call, of course, SMS can not be received. There may also be companies without an online reservation system. If this is the case, you may want to have an employee response.
Call Joe records the content for the purpose of improving the call quality. A tagged business owner can use the dashboard to check inquiries, call frequency, and so on. However, Call Joe is already available only for a private number, not a phone number. Therefore, you need to change your corporate contact information.
Call Joe is currently available as an invitation only in the United States. You can get invitations by email from the official site, which costs $ 39 a month. Reservation or order can not be accepted, but it may be linked with inventory and reservation management system in the future. If this happens, Duplex may make an appointment call and the future may come when AI is talking at the same time, such as receiving Cole Joey. For more information, please click here .