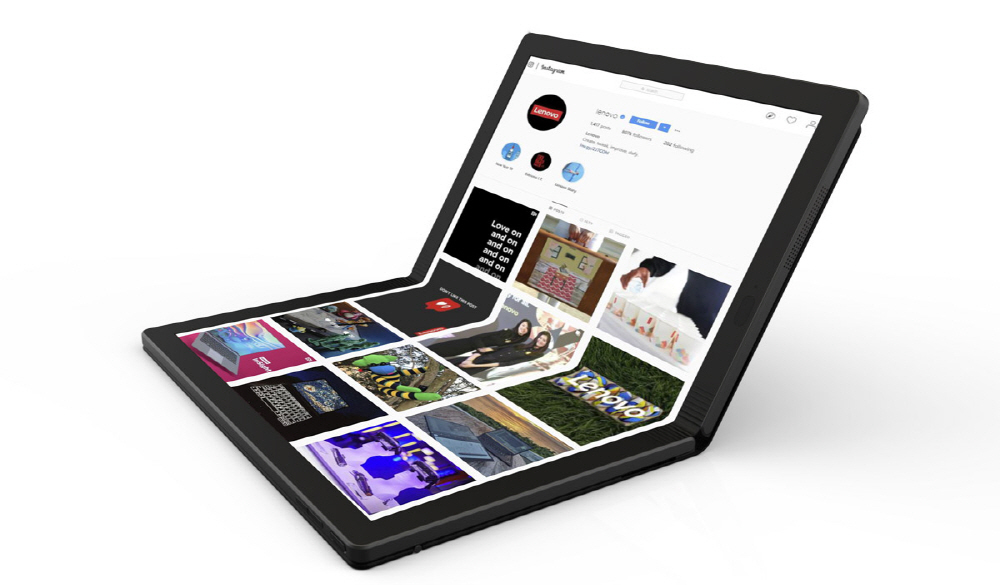 Samsung Electronics, Huawei and Xiaomi are competing for a launch of foldable smartphones. Lenovo, however, is notorious for introducing a laptop with a foldable display. The ThinkPad X1 brand notebook is still in the prototype stage, so there is no exact name or specification, but the images are publicly available.
You can see the prototype touching the image. When you open a notebook that is folded like a book, you can see that the front of the device is made up of the display. As mentioned earlier, the ThinkPad X1 logo is attached to the cover.
This new product is not just a tablet or smartphone, but a laptop. You can use the keyboard at the bottom of the screen to write to the notebook if you leave the compartment folded. Even if left in a bent state, the wrinkles do not come out clearly, but the state of drawing the curve to the end. On the other hand, depending on the angle, there is also an angle that is not clearly visible. This will need to be improved in the future.
If you connect an external keyboard, you can write the screen to the entire screen. The display itself is said to be 13.3 inches and the resolution is 1920 × 1440 OLED of LG Display. The sample product includes Windows 10, but it is also tentative. Microsoft is also rumored to be developing an operating system that limits functionality to a folded device, so there is a possibility that such a proprietary operating system will be installed when the actual product comes out.
In addition, it has two USB type C terminals, and the prototype has no SD card slot or earphone terminal.
A 13-inch device can be used as a display for watching movies, or it can be folded and placed on a lap and used as a notebook. It also supports Wacom stylus pens so you can draw pictures. The upper half of the screen can be used as a PC while the bottom can be used as a memo.
The new laptop is not a tablet or a smartphone, but a PC. Thousands of companies are taking a smartphone expansion strategy, but Lenovo has opted for a smaller PC.
As the launch of the folding smartphone of Samsung Electronics is delayed because of the damage to the Galaxy Fold screen, Lenovo is also facing similar challenges to the new notebook. Lenovo says it is doubling the hinge movement test to prevent this damage. For more information, please click here .