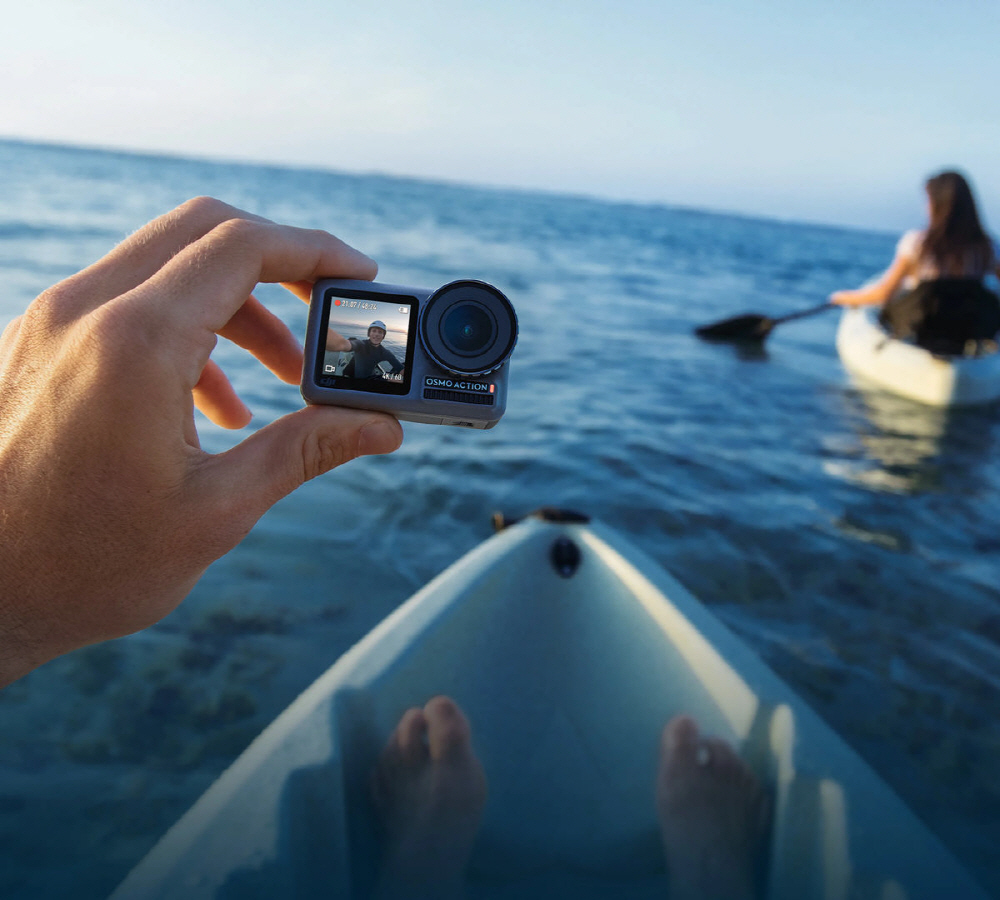 Osmo Action is a small action cam announced by DJI, a drones company. Dual screen model with display on front and back of the main body supports image stabilization function, 4K HDR image shooting and 8 times slow motion image shooting function. Of course, it supports waterproofing.
The size of Osmo Action is 65 × 42 × 35mm and weight is 124g. The front has a 1.4-inch screen with 300ppi and the back has a 2.25-inch touchscreen that supports resolutions of 640×360 and 325ppi. There are power and recording buttons at the top of the body, and when you turn off the power or turn off the power, you can start shooting in 2 seconds by pressing the button. It also has a waterproof case, a floating handle, and a charging hub.
The feature of this product is dual screens located on the front and back of the device. Even when taking a self-portrait, you can shoot while checking the image on the screen. The camera can capture 4K 60 frames high-quality images, and 1080p and 240 frames are the maximum for slow motion images. Other features include 4K 30-frame HDR movie recording, custom exposure setting time for up to 120 seconds of long exposure, and time-lapse and timer shooting modes. In addition, 5 voice commands to operate the terminal with voice control function.
The OSMO ACTION supports waterproof to withstand depths of up to 11m, and the three-layer lens has a protective coating that protects it from contamination such as water or oil. It can withstand temperatures of -10 degrees Celsius. A cooling system is installed inside and the heat generated by the operation can be efficiently removed and stable shooting can be done for a long time. The battery capacity is 1,300 mAh and charging is completed in 90 minutes.
It also supports RockSteady, an excellent image stabilization feature that has been incorporated into DJI's drones. This is a combination of automatic electronic image stabilization and DJI's own algorithm, which helps to take less shaky pictures.
Of course, in places with good lighting conditions, you can take a clean image, but in the dark, the image grain is rough. Also, both images and videos say that the image is lower than the high pro. However, the feature that does not have a high pro is that it is helpful when taking a self-portrait with a dual screen. For more information, please click here .