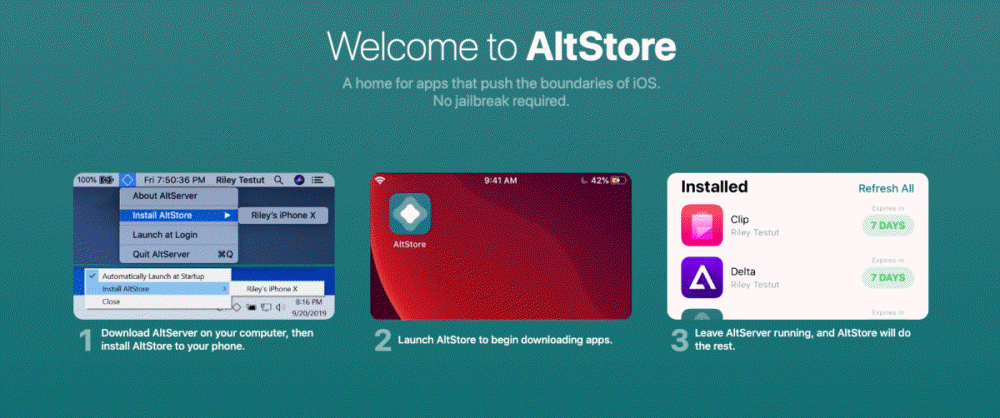 AltStore is an unofficial iOS app store that doesn't require jailbreak, created by an iOS app developer named Riley Testut.
Usually, to install the app on an iPhone or iPad with iOS, you need to use the official app store. Apps that are not approved for distribution in the App Store cannot be used. Of course, some people jailbreak their iOS devices and use an unofficial app store. All apps approved for distribution in the App Store must go through Apple's review, and many of them have been eliminated and died. There is also a possibility that apps that were previously available for distribution by Apple by changing standards will be opted out.
Some users who don't like this environment jailbreak their iPhone or iPad and use the unofficial app store. But jailbreaking an iOS device requires technical knowledge and is an obstacle for the inexperienced. This is why Testit developed AltStore, an app store that does not require jailbreaking while being an unofficial app store.
AltStore has the ability to trick you into being a developer who trially sideloads a test app onto your iOS device. Users can install the AltStore app on a macOS or Windows-based PC, register an Apple ID by connecting an iOS device, and manually install the AltStore app.
In addition, apps installed on AltStore must comply with the terms of the Apple Developer Account. The terms of the developer account are forcibly deleted from the device after side-loading apps are authenticated for 7 days. To circumvent this regulation, Altstore uses the iTunes sync framework to reinstall unofficial apps on devices before the 7-day activation period expires.
Testit explains that all of the functions used to run AltStore are applications of functions provided by Apple for developers and users. It is theoretically difficult for Apple to stop using Altstore. That's because all Altstore does is the same as Apple does. The unreasonable way to shut down AltStore is for Apple to stop all services, but it says it could affect a lot of people. A preview version of AltStore has been released. Related information can be found here .