A research team at UC Berkeley's HiPeR Lab has developed an alternative battery and replacement technology that can be connected to a drone during flight. A flying battery and a drone merge in the air. Drones devised a way to allow small drones to float in the air almost indefinitely, using replaceable flyable batteries that can be exchanged without the need to land. It can be said to be similar to air force technology that performs long-distance missions through an air tanker.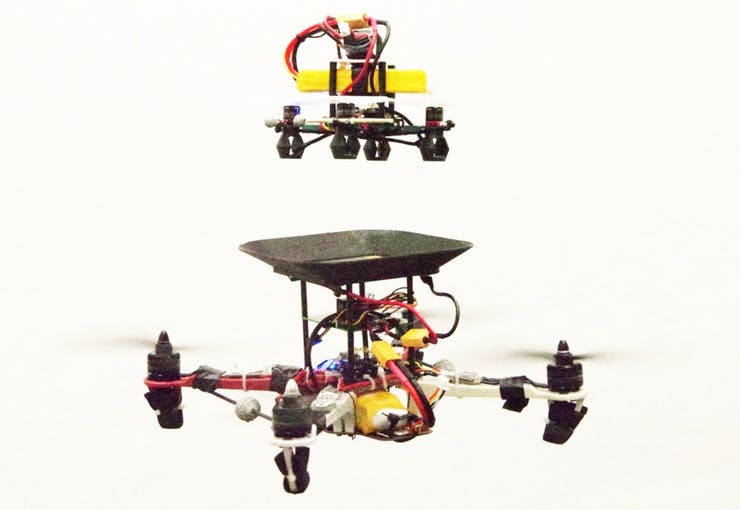 Quadcopter drones using four propellers not only provide high stability when flying, but also have excellent maneuverability and speed. However, four propellers are driven by four electric motors, which consumes the battery rapidly. This is why it is difficult to last more than a few minutes per game even in drone racing, which is popular these days.
Of course, it is possible to increase the battery, but the problem is that the weight increases, so a powerful motor is required. Eventually, the drone flight time reaches its limit and requires a new battery. For long-distance reconnaissance missions or for delivery of goods while crossing a city, landing somewhere to recharge and exchange new batteries is associated with a delay.
The research team developed a large quadcopter drone with an electrical contact pad on the top to simplify the battery replacement process of disconnecting and reconnecting cables. The replacement battery rises like a small quadcopter plus its own propeller and motor, and then touches down on a large drone pad. The power is then supplied through electrical contacts on the battery legs.
The developed prototype is equipped with a 2.2Ah lithium polymer battery and can fly for 12 minutes. The flight replacement battery capacity is 1.5 Ah each in addition to the small batteries that travel back and forth between large drones, extending the prototype flight time by 5 minutes. The flight replacement battery supplies all power when landing on a large drone, but does not recharge the primary battery. For this reason, the primary battery in a large drone gradually decreases while the flight replacement battery is not supplied. Nevertheless, it is said that the test result was that the flight time of the prototype could exceed 12 minutes to 1 hour.
If this technology is to be realized, there are logistics problems that must be overcome. Other drones with replacement batteries must be installed along the flight path to increase range. For large cities or delivery drones, this may not be a difficult problem. However, if it is for military use, it can be difficult to establish a base. Related information can be found here .