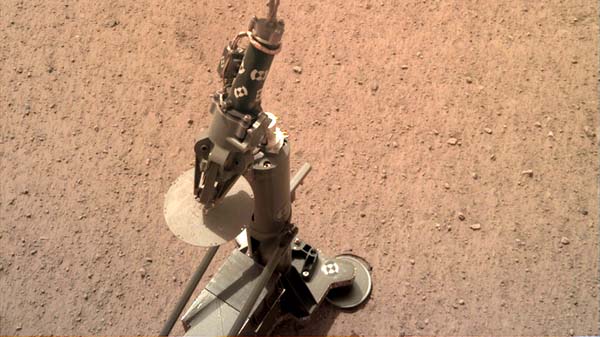 NASA's Mars Lander Insight has been observing the wind and earthquakes on Mars since its landing in November last year. However, on the other hand, the process of inserting a heat conduction probe into the ground to measure heat leakage inside Mars started in February, but the heat measurement has not been performed so far.
However, after eight months, Insight finally confirmed that the heat transfer probe was inserted. When the Mars lander pushed a pile-like device called Mole into the ground, it was blocked by the hard floor and could not penetrate as expected. However, the robot arm was pushed from above so that it could somehow fit into the rough ground of Mars.
The heat transfer probe on the Insight Lander still hasn't reached the required depth. Since October 8th, it has been buried about 2cm in the ground. There is still a long way to go to the target depth of 5m. Nevertheless, it is said that a scientist who waits for data from the probe anxiously gains a sense of stability as the situation shifts from worrying that it might end up as a waste to a situation where it is likely to obtain the final data.
Finding out the heat, vibrations, and sounds inside Mars can be an important clue to knowing how Mars became what it is. If there are no obstacles, such as rocks, buried in the area where the probe is targeting, important information may come from studies investigating the thermal conditions inside Mars in the near future.
While Earth still has a lot of water and life, it could be a new clue to why Mars has become a dry, red and desolate land. Related information can be found here .