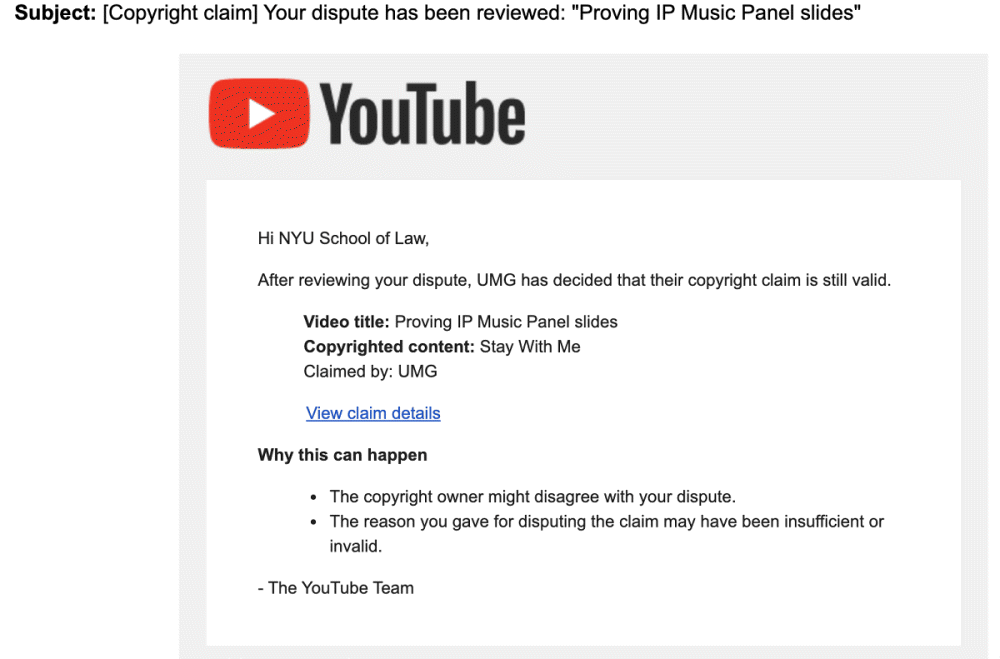 New York University Law School, where an expert posted on YouTube posted a video explaining copyright, reportedly received a report of YouTube copyright infringement.
The video that received a copyright infringement report was taken at a symposium on intellectual property held at the Engelberg Center in the United States in 2019. Law scholar Joseph Fishman presided over, music scholar Judith Finell and forensic scholar Sandy Wilbur gave presentations and discussions on the proof of the similarity between copyright and music.
However, in this video, Marvin Gay's GOT TO GIVE IT UP from 16 minutes and 57 seconds using music became a problem. The main purpose of the symposium is to explain how to analyze music in terms of copyright litigation. At the beginning of the panel discussion, I played a part of the song to illustrate an example while giving a presentation on the approach taken to analyze music.
The video recording the symposium in June 2019 was posted on the YouTube channel of New York University Law School. In August of the same year, a video clip that solved the presentation slide was published. In any video, the song used for the presentation is the same, but only the video posted in August received reports of copyright infringement from several companies through the YouTube Content ID system.
An email sent by Universal Music Group while filing copyright infringement reveals that the video content of New York University Law School is copyright infringement and that it has filed a copyright infringement objection on YouTube. In the end, YouTube was not able to get a clear explanation of why it received a copyright infringement report, but it was reported that the video-related claims were deleted a few weeks after the objection was filed.
The New York University School of Law said that the symposium where the video was taken was gathered with people who were deeply involved in copyright, such as intellectual property scholars and people who have operated large-scale online platforms. However, videos explaining copyright infringement in places where many experts gather are also subject to suspected copyright infringement on YouTube, and New York University Law School points out the incompleteness of YouTube's automated content verification function.
A system that determines copyright infringement only by matching with existing works is incomplete and should include a process to deal with exceptions. It is argued that even if all inspections are possible through automation, a fair human review is required according to the information. Related information can be found here .