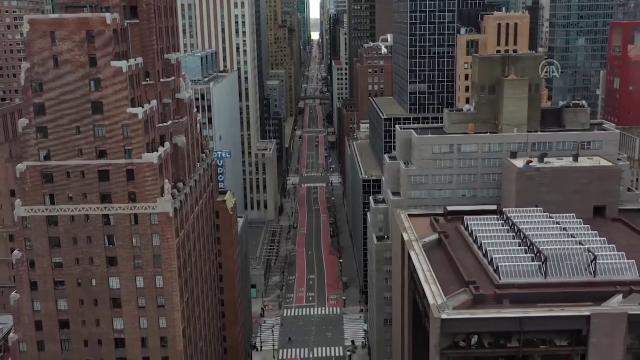 In the United States, outings are currently being restricted in many cities to prevent the spread of Corona 19. More than 50,000 people tested positive, and the number of deaths reached 783 as of March 25 (the number of infected people as of 25 days below). As the situation continues to deteriorate, a ban on going out for social distancing comes out to avoid rich contact. The footage taken with a drone draws attention to what these major cities in the United States look like.
First, Los Angeles, California. 40 million people in California are allowed to go out to buy food or medicine. In California, 2,539 people were infected and 51 people died. In LA alone, 662 people were infected and 11 people died.
The state of Massachusetts declared an emergency on March 10, but did not prohibit going out. It's not a government order, but in Boston you can certainly see that people are stuck in their homes. The Massachusetts governor said it has no intention of banning going out and is taking steps, such as closing stores for social distancing. In Massachusetts, 1,159 people were infected and 11 people died.
Tennessee restricted restaurant operations and ordered the gym to close. Only drive-through, take-out and delivery are allowed in restaurants. In this state, 772 people were infected and 2 people died.
New York State has a ban on going out, so you can hardly see anyone walking even on the always crowded streets of New York. 26,374 infected and 271 dead. 48% of infected people in the United States have occurred in New York State, and the Governor is warning that the worst could still happen.
Louisiana has a small population but has a large number of infections. 1,388 were infected and 46 were killed. The governor here announced that it may not be like Italy, but that Louisiana had the most and fastest spread in the world on the 13th. The streets of New Orleans also speak of this atmosphere.
In San Francisco, California, after a curfew fell, it became busy. In California, 2,539 people were infected and 51 people died.
Also, in the case of Nevada, all casino facilities have been ordered to close, but it is not known when business will resume. The Governor argues that it was a difficult decision, given that such a gamble is a source of funding that can be called the lifeline of Nevada. In Nevada, there were 278 infected and 4 dead.
Mayor Ann Arbor, Michigan warns that the virus is spreading and that all residents should stay home and be careful if they ever go out. They need to understand that they are not going to go out to the park with their children, and they should delay the spread of the virus by minimizing meetings and conversations. In Michigan, 1,793 people were infected and 24 people died.
In Sacramento, California, 88 people were infected and 4 died. Two of the dead were from Presbyterian churches.
And places like Michigan City, Indiana, are also encouraging most people to stay home. In Indiana, there were 369 infected and 12 dead.
Florida has ordered a beach closure. Florida's beaches have disappeared at once after the closing order. Florida has 1,467 infections and 23 deaths.
Meanwhile, Apple is also encouraging employees around the world to work from home due to the spread of Corona 19. Apple Park, the headquarters campus, is no exception. The current image of Apple Park like this is also released in aerial footage with a drone. You can see that the human figure has almost disappeared. In this video, you can enjoy the view of Apple Park, the Steve Jobs Theater, which is familiar as a special event, and the city of Cupertino from above. This place, too, has lost its popularity enough to pass a few cars. In Santa Clara County, California, where Apple Park is located, going out is prohibited in principle due to the effect of Corona 19, and it is closed until April 7, except for stores necessary for life such as pharmacies, food, banks, and public services such as police and medical institutions. Apple is no exception.