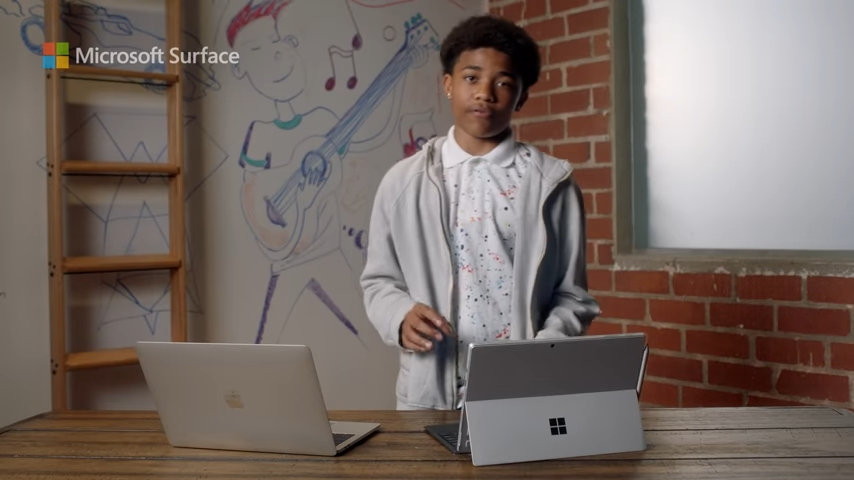 Microsoft released an advertisement video on YouTube comparing the Surface Pro 7 and the 13-inch MacBook Pro, and appealed that its Surface Pro 7 is a better choice.
This ad (Microsoft Surface Pro 7: The Better Choice) emphasizes that the Surface Pro 7 has a touchscreen and is easy to use with a stylus, complaining that there is only a small touchbar on the Mac, and why the whole screen is not a touchscreen. It claims to be a detachable keyboard, lower price, and better gaming device.
However, the Geekbench score of the lowest-priced Surface Pro 7 model with 4GB of RAM on Intel Core i3 is 769 points for single core and 1,851 points for multi-core. In addition, the higher version with Core i5 and 8GB of RAM also stayed at 1,210 and 4,079 points, respectively. In contrast, the 13-inch MacBook Pro M1 chip and 8GB integrated memory model have 1,735 points for single core and 7,686 points for multicore. When it comes to performance, the Surface Pro 7 is ahead.
The 12.3-inch Surface Pro 7 is priced at $2,299 with a 1TB of storage space and 16GB of RAM. Compared to this, the 13-inch M1 MacBook Pro has 16GB of integrated memory and 2TB of storage, which is no difference at $2,299.
Until now, Microsoft has launched iPads and comparative ads to promote the Surface. Apple also ran an ad campaign mocking Windows PC. Related information can be found here .