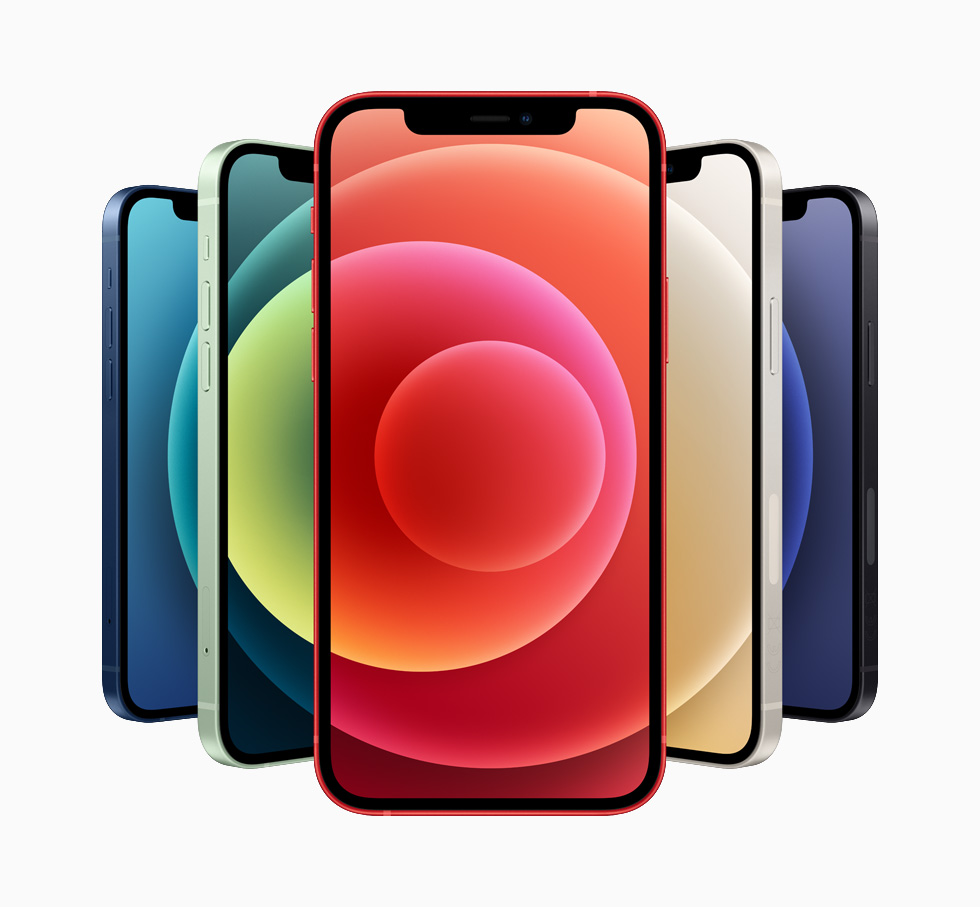 On January 27 (local time), market research firm IDC reported the results of a global smartphone shipment survey in the fourth quarter of 2020.
According to this, the number of units shipped was 385.9 million units, up 4.3% from the same period last year. In 2020, it recorded negative growth compared to the same period last year for three consecutive quarters, recording the largest recession in history in the first quarter of 2020 due to the impact of Corona 19, but barely turned to a positive. In 2020, it is 5.9% less than the previous year, but the smartphone industry can be said to be a bright sign in 2021.
Apple shipped the most smartphones in the fourth quarter of 2020, with the number of units increasing by 22.2% compared to the same period last year to 90.1 million units. This is the highest ever in a single quarter shipment. Samsung Electronics ranked second with 73.9 million units, an increase of 6.2% from the same period last year, while Xiaomi shipped 43.3 million units, an increase of 32%.
Top 5 Smartphone Companies, Worldwide Shipments, Market Share, and Year-Over-Year Growth, Q4 2020 (shipments in millions of units)
Company
2020Q4 Shipment Volumes
2020Q4 Market Share
2019Q4 Shipment Volumes
2019Q4 Market Share
Year-Over-Year Change
Apple
90.1
23.4%
73.8
19.9%
22.2%
Samsung
73.9
19.1%
69.5
18.8%
6.2%
Xiaomi
43.3
11.2%
32.8
8.9%
32.0%
OPPO
33.8
8.8%
30.6
8.3%
10.7%
Huawei
32.3
8.4%
56.2
15.2%
-42.4%
Others
112.4
29.1%
107.1
28.9%
5.0%
Total
385.9
100.0%
369.9
100.0%
4.3%
Source: IDC Quarterly Mobile Phone Tracker, January 27, 2021
It was Huawei that suffered a major downturn. It recorded 32.3 million units, down 42.4% from the same period last year. In the second quarter, Samsung Electronics was ranked first in the world, but it can be said that the impact of US sanctions is getting serious. Huawei also sold its sub-brand Honor, and rumors of the sale of flagship brands, Mate and P series, are also coming out.
IDC said that spending on smartphones is increasing while leisure and eating out expenses have decreased due to refraining from going out. Although the epidemic continues, IDC expects smartphone shipments to continue steadily in 2021.
Meanwhile, in a report released by market research firm Counter Research and Canalis, it was revealed that Apple surpassed Huawei in smartphone sales and returned to the second place in the world for smartphone shipments. Of course, as explained earlier, the US economic sanctions can be seen behind the decline in Huawei smartphone shipments.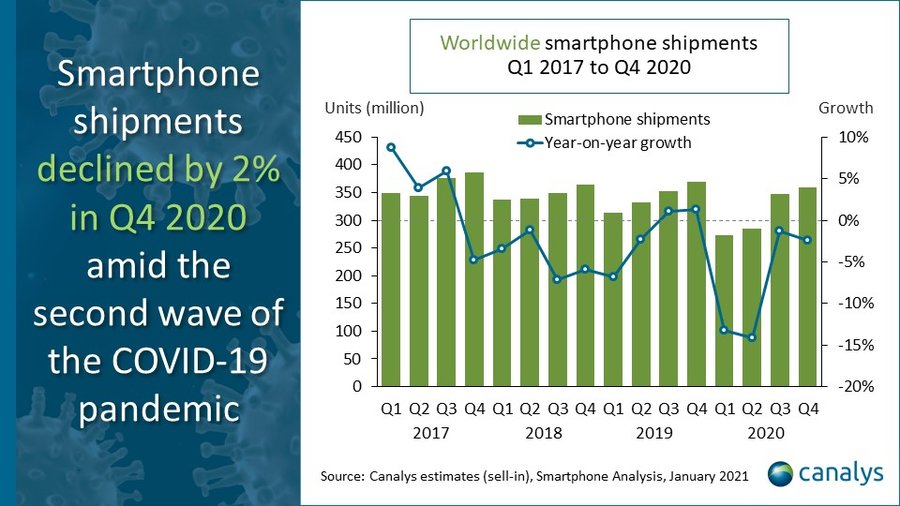 Looking at the number of smartphone shipments in 2020 announced by Canalis, total shipments were 1.264.7 million units, down 7% from the previous year. By company, Samsung Electronics' 255.6 million units were followed by Apple's 27.1 million units, Huawei's 188.5 million units, Xiaomi's 149.6 million units, and Oppo's 115.1 million units. Compared to the previous year, the growth rate of Samsung Electronics decreased by 14%, Apple increased by 5%, Huawei decreased by 22%, Xiaomi increased by 19%, and Oppo decreased by 4%.
The content released by Counter Research is also similar to that of Canalis, but the number of shipments by manufacturer is ranked 10th. Realme, which was ranked 7th, is a new brand independent of Oppo, with a phenomenal growth rate of 65% compared to the previous year.
Canalis said that the iPhone 12 made a huge hit, and said that Apple is in a better position than its competitors in 5G, and that it has helped boost Apple sales and profitability by relying strongly on the sales channels of advanced markets and mobile phone operators. It also pointed out that the iPhone 12 has succeeded in streamlining logistics and controlling transportation costs because it does not come with a power cable.
According to the announcement by Canalis, the number of smartphone shipments in the fourth quarter reached 359.6 million units, down 2% from the same period last year. No. 1 Apple shipped 81.8 million units so far, an increase of 4% compared to the same period last year, Samsung Electronics' sales of 62 million units, a 12% decrease from the same period last year, and Xiaomi's sales of 43.4 million units, a 31% increase from the same period last year. It has been 6 years since Huawei, which ranked 6th with 32 million units, fell from the top 5 smartphone shipments in the quarter.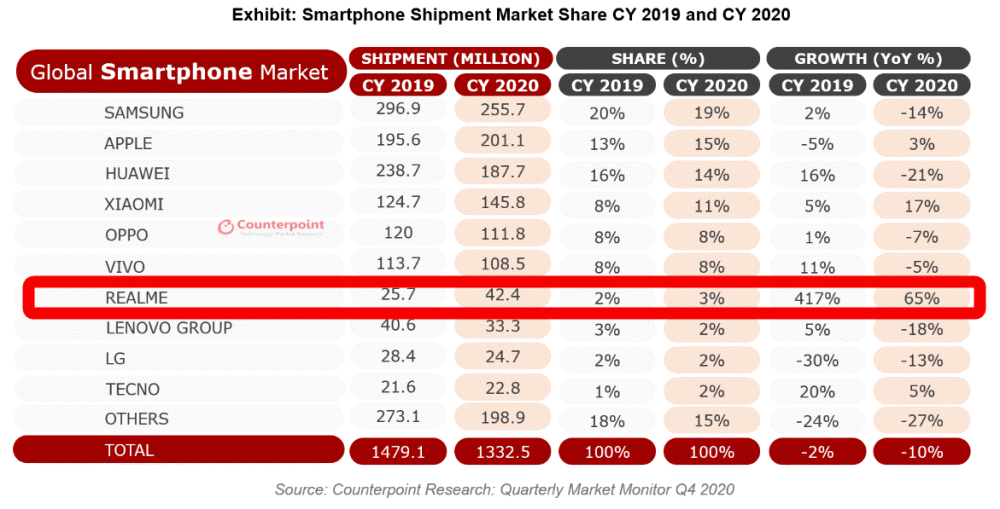 In terms of smartphone shipments by manufacturer, Huawei maintained the overall second or third place for a long time, but in the second quarter of 2020, it shipped 55.8 million units, surpassing Samsung Electronics for the first time and ranking first in the world. However, in the fourth quarter of 2020, shipments fell to 6th place, behind not only Samsung Electronics, but also Apple, Xiaomi, Oppo, and Vivo.
Canalis said that the number of Huawei smartphone shipments has retreated significantly due to US economic sanctions. Huawei's sub-brand Honor Independence may change the situation. In addition, smartphone shipments in 2020 stagnated due to infectious diseases, but showed a recovery in the second half of 2020, and it is expected to recover in 2021.
Related information can be found here ( IDC , Canalis , Counter Research ).