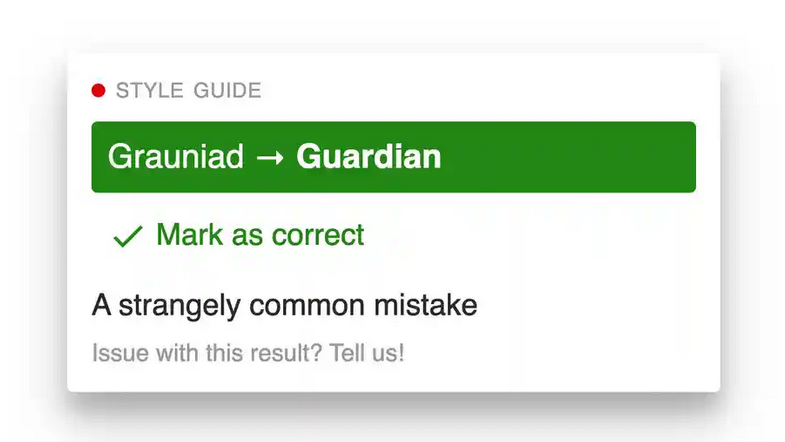 The Guardian, a British media outlet, has developed Typerighter, an editor that supports writing articles according to style guides that unify speech.
The Guardian Style Guide, first published in 1928, is now open on the Internet and can be viewed by anyone. Guardian is a newspaper company with a long history founded in 1821, so the style guide is quite large. The number of style guides is 13,000, which is written by employees using unified expressions as the rules for determining authenticity according to the style guide. In addition, in order to update according to the times, a structure that can write articles according to the latest style guide has been required.
Because of this background, the Guardian development team has developed an editor called Typewriter that makes it easy to write articles according to style guides. When you read the sentence in typewriter, it emphasizes typos according to the Guardian style guide. If you click on the highlight area, the correct notation is presented in a pop-up, and if you click the green button, you can correct the typo with the suggested word. In this way, the typewriter makes it easy to write sentences in line with the style guide.
The typewriter system design was developed by using the editor framework (ProseMirror) to save the style guide rules (Rule management service) in a Google spreadsheet and view the typewriter UI in a browser. It takes a rule from a spreadsheet and returns the result to the browser whether the word transmitted from the browser matches the rule.
In addition, log information about which proposals are frequently accepted is collected in the system (Elasticsearch) originally operated by the Guardian, and this log is visualized so that the typewriter usage status can be easily recognized. In the development of the typewriter, it is said that not only members of the development team but also reporters' opinions were referred to reduce traffic and refined UI.
The biggest feature of a typewriter is that it does not automatically correct typos but suggests the correct words. This feature reveals that although the typewriter can promote consistency as a style guide, it does not replace the editor's judgment in the field. The purpose of the typewriter is to reduce unnecessary work for the writer and provide an environment where they can concentrate on writing articles.
As of January 2021, Typewriter is used for about half of the articles posted on The Guardian, and Google Spreadsheets will be replaced by their own rules management system in the future. The typewriter is open source and can be used by anyone as it is open to GulHub. Related information can be found here .