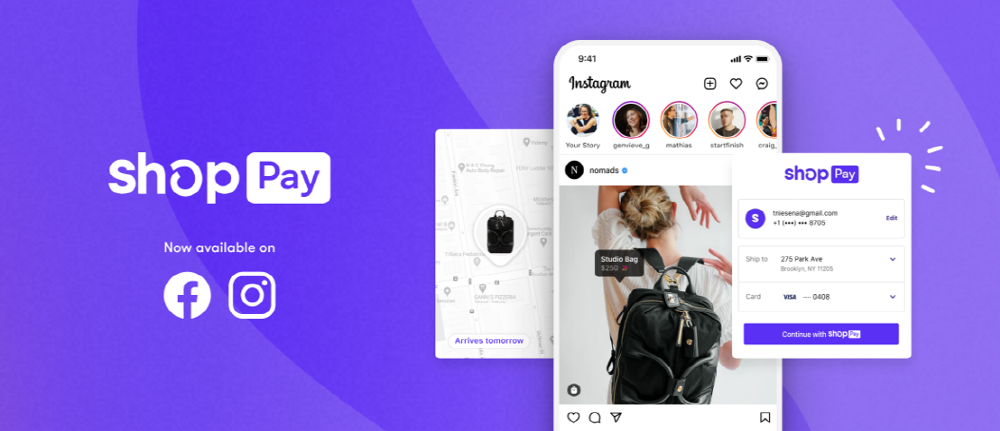 Shopify, which operates an EC platform that makes it easy to open an online shopping mall, etc., provides Shop Pay as a payment service that can be used in the Shopify store opened on the platform. However, ShopPay can be used not only inside the Shopify platform, but also in the online shops opened on Facebook and Instagram.
In May 2020, Facebook launched a service that allows businesses to open customized online shopping, and in the summer of the same year, the same online shop is also available on Instagram. Shoppay announced on February 9, 2021 that its payment service, ShopPay, will be available on Facebook and Instagram online shops. Up to now, ShopPay was only available at the online shop opened on Shopify, but for the first time, it can be selected as a payment service at the online shop opened on another SNS platform.
ShopPay, which started its service in 2017, allows you to make payments using information stored in online shops that correspond to ShopPay by storing credit cards and shipping information. To use the data stored in ShopPay, it can be said that it is a service that combines security and simplicity because a ShopPay code transmitted to SNS is required on a smartphone.
In 2020, 137 million payments were made at ShopPay. Since 2017, the total sales through ShopPay reached 20 billion dollars. In addition, Shopify is also conducting tree protection activities in the Peruvian rainforest to offset carbon emissions from delivery.
ShopPay will be available on the Instagram Shop from February 9, 2021, and will be available on the Facebook Shop in a few weeks. However, it is currently only for Facebook shopping in the US.
According to a report by market research firm eMarketer, in the United States, social media platform purchases are on the rise, but only a small number of consumers make payments on the platform, and more than half of them purchase from distribution websites rather than platforms. SNS companies looking for ways to let users go to the final payment on the platform are attractive in introducing ShopPay, which allows users to easily make online payments from their smartphones.
However, ad agency experts point out that the introduction of ShopPay is difficult to have a big impact. ShopPay is a service that is not sufficiently known, and there are not many consumers who consider purchasing a product with or without payment service, so it is unlikely that Facebook and Instagram sales will surge.
Meanwhile, a senior analyst at emarketer says that shoppays can be promoted when making impulse purchases in fields such as beauty, fashion, and interiors. Related information can be found here .